Taku Yashiro, Shoya Chiba and Yuto Uemura talk about "B-PRO"! Report from the December 5th "B-PROJECT 6th Anniversary Gandhara BB + Public Recording" Part 2
---
(Repotama is an online magazine covering news on everything anime, and we have recently started trying out posting articles in English! If you enjoyed this article, we'd really appreciate it if you'd consider sharing it and following us on Twitter!)
The BIG Idol Project "B-PROJECT" (B-PRO) by MAGES celebrated its 6th anniversary in September 2021. In commemoration, a public recording event based off of the web radio program "Gandhara BB +" (broadcast live at 9:30PM on the second Friday of every month) was held. This time, we'll be talking about how the second part of the event went down.
In part 2 of the event, Taku Yashiro (voice of Haruhi Teramitsu), Shoya Chiba (voice of Akira Fudo) and Yuto Uemura (voice of Kazuna Masunaga) hit the stage. The members and all the baby-chans (fans) had a great time looking back on the work, enjoyed a game segment, a question segment and more.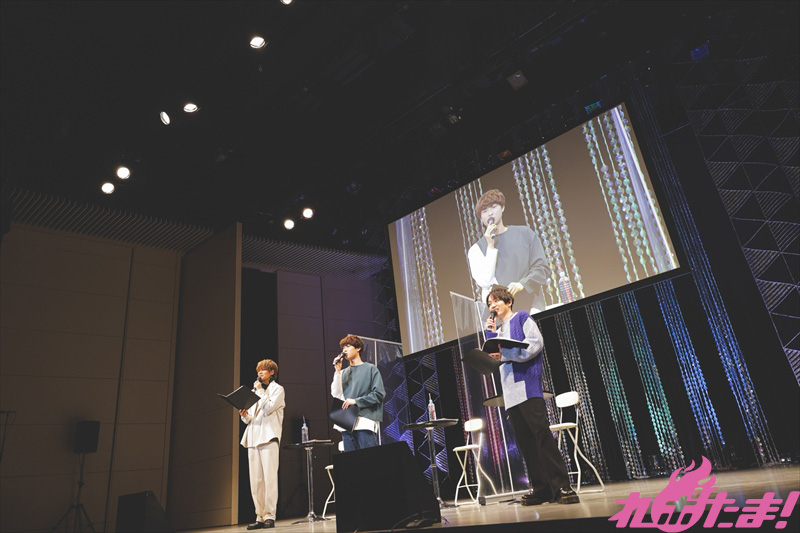 It had been quite some time since their last event with a live audience, and the first thing they did was address the audience directly and asked "Alright, how many of you would put in "Eikyuu Paradise?" and also "Who has listened to the new album "B with U"? and they had fun with the reactions given. A measure was in place that didn't allow the audience to shout out their answers, but every time a question was asked a large applause was given and everyone had a good time.
Next, they talked about their memories with "B-PRO" up to this point. Their first solo event "B-PROJECT 1st STAGE2016" that was held in March 2016 was a special performance where the three members met each other for the first time. After a fun time talking about that emmory, they talked about the time at "B-PROJECT 2nd Anniversary DARK in the HALLOWEEEEN STAGE DAY" where Uemura showed "Master Painter's Buri" to celebrate both Halloween and their 2nd anniversary. Uemura couldn't help but let out some bitter laughter over his "unique touch" that he showed off back then.
Then, a talk began based off of the emails sent in advance from all the baby-chans. One had the title of "Personal Trend Award 2021" where the baby-chan said "I listened to B-PRO's songs and tried to pick out who was singing each part as I listened" and the three said "Wow! This person must be a sharp listener…"
With this part serving as a sort of trigger, the next topic was "What have the three of you gotten really good at recently?"
Chiba said "I bought a new computer and I'm preparing the audio needed to learn voice recording and other things related to music-oriented work." Yashiro said "Soccer matches. Without listening to any commentary, I can tell what player I'm looking at just by how they move around." Finally, Uemura said "I've been getting really into tasty bread. I've been wondering where I can buy Stollen (a German Christmas bread) this year, and I finally was able to find a place that sells it at a favorite scone shop of mine." They all praised each other's enthusiastic answers.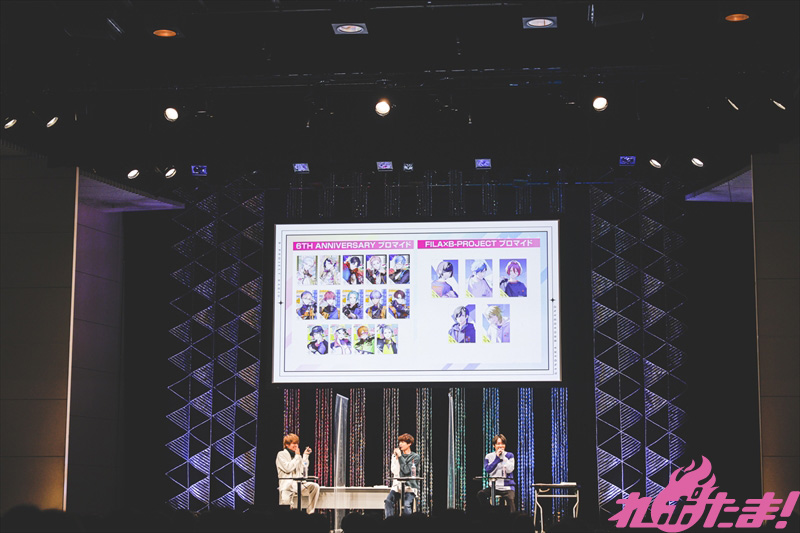 At the "B-PRO Goods Presentation Tournament", Utako Yukihiro presented interesting uses of their newest goods using new visuals.
Talking about "Bromide" (photos of the members), Uemura said "I think you can have fun using them in card games like karuta." Then, Yashiro made a further suggestion with "You could also use them in western card games too!"
Next, they introduced their metal badges, and showed off how you can place the badges however you'd like on a tote bag and make your own "Oshi-Tote Bag". Chiba also lined up Miroku Singari around his childhood friend Fudou Akane (who protects those close to him" and expressed the world of this series perfectly.
Then, the popular segment "Otome no Heart Bakkyu~n!" from previous airings of the program was revived once again for this event only.
Here, Yashiro and Chiba performed improv with the theme "She comes up behind you and covers your eyes then asks you to guess who's there, making your heart flutter!" and Uemura played the role of "She". He did a good job building up to the fluttering.
Yashiro showed off his "special skill" of finding the marriage line in Uemura's palm with a confident and handsome performance.
But then Chiba responded seriously, asking "Who are you?" The audience seemed to have a great time as the improv continued with lines like "Try something funny and your life is over". In the end, he revealed he was just kidding though, and Uemura responded with "Baka~!"
Chiba unexpectedly won in this segment. He was given a prize at the end.
In the "B-PRO members will take on your questions! Q Project" segment, the three of them answered questions from the baby-chans.
A question directed at Ryuji Korekuni (voiced by Daisuke Kishio) read "How will you spend your Christmas this year?" and the three members gave his answer: "I want to have a Christmas party with all of the members!"
There was also the question "What is the current state of things with Asa no MooNS (a group composed of members Toshiki Masuda, Mikado Sekimura (voiced by Tetsuya Kakihara), Hikaru Osari (voiced by Showtaro Morikubo), Tatsuhiro Nome (voiced by Genki Okawa), and Mikado Sekimura (voiced by Toshiki Masuda)?" And Uemura answered in-character, saying "We're not clever enough, so we went and made a proper morning routine and ended up with a normal life."
At the end of the event, the three sent out a personal message to the baby-chans: their usual parting message on the program "By B~!" And with that, the fun public recording event drew to a close.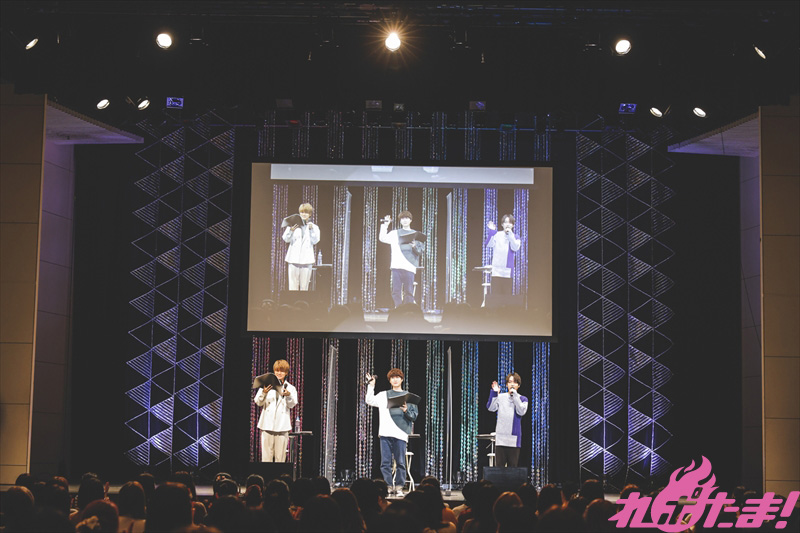 ☆See below for a gallery of photos.
●「B-PROJECT」 Official Site
http://bpro-official.com/
●「B-PROJECT」 Official Twitter
@Bpro_info