A lovely cast explodes with crazy ideas at Christmas!? "Kageki Shojo!! SP Event ~Kouka Girls' Christmas Party~" (Daytime Performance)
---
(Repotama is an online magazine covering news on everything anime, and we have recently started trying out posting articles in English! If you enjoyed this article, we'd really appreciate it if you'd consider sharing it and following us on Twitter!)
The Christmas event for TV anime Kageki Shojo!! which was broadcast from July to September 2021, was held on December 12 (Sun) at the Hitotsubashi Hall in Tokyo.
With Mukai Tenshin as the MC, voice of Sarasa Watanabe Sayaka Sembongi, voice of Ai Narata Yumiri Hanamori, voice of Sawa Sugimoto Sumire Uesaka, voice of Kaoru Hoshino You Taichi, voice of Ayako Yamada Rico Sasaki, voice of Chika Sawada Risae Matsuda, voice of Chiaki Sawada Satsumi Matsuda, and voice of Sei Satomi Hiroki Nanami all took the stage.
It was the first time for so many members to be included in one place, even when the dubbing was being recorded, so there was a general atmosphere of happiness since everybody finally was able to meet each other.
The first segment was centered around popular scenes from the anime, particularly ones that left a strong impression on the cast members.
Sembongi mentioned "a scene where Sarasa's love was unraveled." Hanamori said "I'm glad that Ai-chan, who was trying to avoid being noticed, had the courage to talk to me. I'm glad you chose this scene!" She said with an inspired look on her face.
Uesaka chose a part related to the "Kojinshisu", which became a popular topic among fans after the series aired. This word comes uniquely from this series, meaning "an expression of the feelings of happiness and gratitude through numbers." Uesaka said "I was shocked how Sawa lost to Sarasa in the school audition due to the difference in her Kojinshitsu."
Sasaki chose a scene where "Ayako, worried about leaving her school, is encouraged by her family and teacher." She started to tear up when talking about the touching messages and dialogue from the show. Sasaki explained that she chose this scene because "I wanted everyone to know about this particularly wonderful part of the story."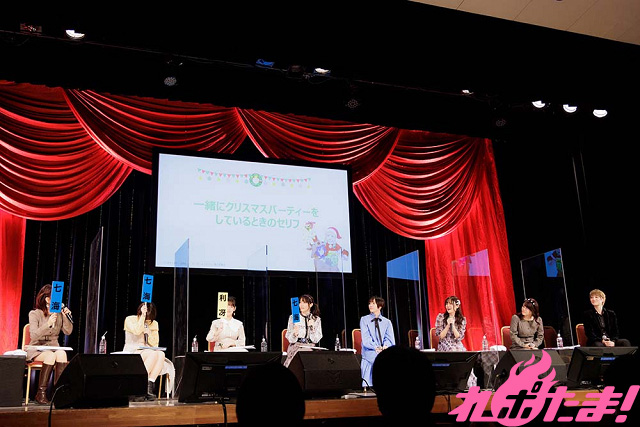 In the "Who will win the star!? Christmas Male Role Audition" segment, the eight actresses were given Christmas-like scenarios, such as "Going to see Christmas illuminations together" and "when together at a Christmas party". The objective was for the actresses to try and act like a male character trying to win over a girl with sweet words in a Christmas-like setting.
The "Santa-group" (comprised of Sembongi, Uesaka, Sasaki, and Satsumi Matsuda) challenged the male roles, while the "Reindeer group" (comprised of Hanamori, Taichi, Risae Matsuda and Nanami) played the female roles.
Satsumi Matsuda gave an enthusiastic performance of a man who was taken out by a girl when he really didn't want to go out, saying things like "Why are you taking a picture? Don't make me say that, it's embarrassing…" and she made the audience squeal with her performance.
On the other hand, there was Risae Matsuda, who played the role of a masochistic guy saying things like "I don't care if you throw cake in my face or hit me with a piece of chicken. If you want to, I don't mind," and made the other members laugh too.
After an announcement, the highest voted group was decided by the speakers. Satsumi Matsuda from the "Santa group" won, and for the "Reindeer group" Nanami took the win.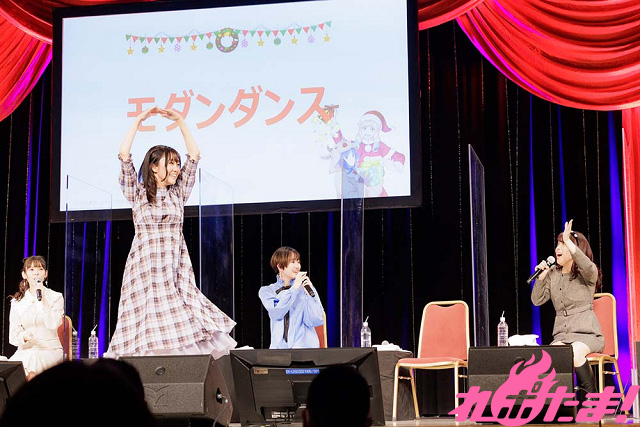 Next was the "Feel it with your five senses! Full-power expression curriculum" segment. It was a bit of a different segment where each person can express a scene from the show using a method of instruction such as "English", "tap dancing", "ballet" etc. and then everyone has to guess what scene that actress just played out.
Taichi performed "Modern Dance" as a way to explain the scene where "Sarasa is exposed to the lights of being on-stage while doing a behind the scenes tour." Also, Nanami expressed through "onomatopoeia" the scene where "Sarasa is pushed by Lieutenant Anai, but she uses all of her strength to kick back." There was a rule that the scene would have to be figured out within 1 minute, but the correct answer was always figured out immediately which showed the love for the show that the cast members all had.
At the last part, the roles of each of the cast members were swapped around, and the "Holy Night Miracle Shuffle Casting Dubbing" segment began. After Hanamori said "Please enjoy the world of 'if'!" the dubbing finally began.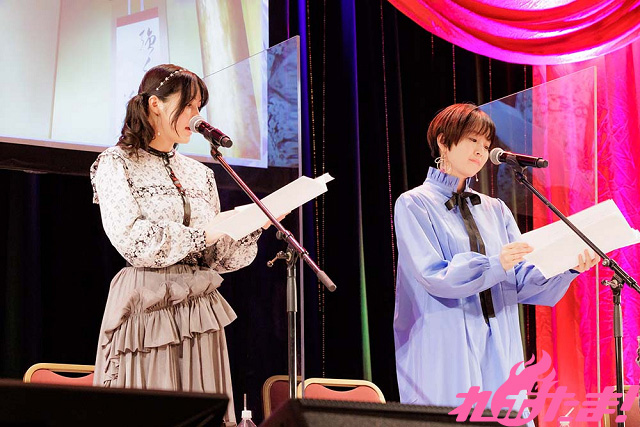 First, Risae Matsuda performed the role of Sarasa, Satsumi Matsuda performed as Ai, Hanamori performed as Kaoru, and Sembongi performed as Chika.
Next, Sasaki and Nanami played the role of "Mukai-san, the MC, just as a request".Sasaki was aiming for Takarazuka previously, and was really impressed by the abilities of Nanami, who had previously played the role of a man in a different work.
For the third one, Taichi was in charge of playing Sarasa and Uesaka played as Ai. It ended with a series of well-suited (?) and fun ad libbing, and the venue was filled with laughter.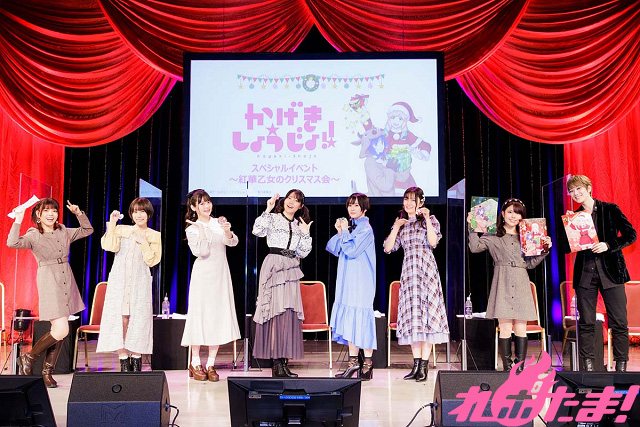 <Reporter / Dandy Saeki・Article wording (editing) by Repotama! editorial department・Photos by Risa Kozai>
☆Please see below for a list of photos.
●TV Anime「Kageki Shojo!!」Official Site
https://kageki-anime.com
●TV Anime「Kageki Shojo!!」Official Twitter
@kageki_anime
(C)Kumiko Saiki・Hakusensha/「Kageki Shojo!!」Production Committee