Taito Ban's birthday is celebrated in the "itsuboku" style! "Taito Ban and Aoi Ichikawa's 'Is it alright to be our usual selves?' Taito Ban wants to become an adult"(one part) report
---
(Repotama is an online magazine covering news on everything anime, and we have recently started trying out posting articles in English! If you enjoyed this article, we'd really appreciate it if you'd consider sharing it and following us on Twitter!)
Beginning September 2020 and quickly gaining popularity, "Taito Ban and Aoi Ichikawa's 'Is it alright to be our usual selves?'" (commonly known as "itsuboku") is a variety show being presented by Taito Ban and Aoi Ichikawa. Ban-san's online birthday event was held on December 12th (Sun).
First of all, Ban-san in the "leading role" served a cocktail to Ichikawa-san and the event kicked off. Ichikawa praised the drink, saying "It tastes like dessert, and is really tasty!"
In the segment talking about news brought in from the neighbors (program listeners), illustrations and congratulatory comments were presented to Ban. He then looked over at Ichikawa who wasn't getting much attention, but Ichikawa quickly responded with "Today isn't a day to worry about me!" and Ban's caring attitude was shown.
In the "Take a Guess" segment, the theme this time was "Ban-san in the dressing room", and the neighbors (listeners) are left to guess "What does Ban-san spend time doing in the dressing room". Ideas like "just talking to himself endlessly" and "just messing around with his phone" popped out, and Ban was impressed and replied with "Yeah, those are pretty much spot-on."
Co-starring in works such as "VAZZROCK", Takuya Matsumoto's birthday message was read out, and then the "Answer Smartly, Banned Word Challenge" segment began. Ban wins this part if he is able to explain certain words such as "love" while following a series of specific instructions. At one point "hamburger" was the word that came up, and Ban was forced to try and explain the word without mentioning "meat", "grill", or using any parts of the word itself.
The last part was the "Reading Aloud" which has become an annual event. He read out loud Nankichi Niimi's famous story "Gon, the Little Fox" and made the neighbors on the other side of the screen happy.
Next, we'll be introducing the comments left by the two after the event concluded.
―Please tell us how you felt about the event now that it's over.
Taito Ban: It's a little embarrassing, but I'm glad that so many people came to celebrate my birthday. It's the second birthday stream since "itsuboku" started, and it's all thanks to everybody tuning in that the program has been able to continue for so long. We're always so grateful for your support!
Aoi Ichikawa: When the show started, Ban-san talked with what seemed to be very little confidence (laughs), but at today's event I felt that his unique characteristics and his presentation was firmly his own and well-established.
―Please give us those words of praise for Ban-san one more time.
Ichikawa: Ban-kun might be the number one person you can just be yourself around. And it's thanks to him that I'm able to relax and work well on the show. I want to express a heartfelt "Thank you"!
Ban: It's also a lot of fun for me every time because Ichikawa is the one I work with. I would love to be able to continue making programs with the two of us, the staff, and all the neighbors.
―What are your 2022 aspirations?
Ichikawa: I'd like to have more adventures in my thirties. Even in my personal life, I want to try and live a life that will help me on the show.
Ban: Now that I'm in my last year of my twenties, I want to be aware of that every day so I can get the most experiences that I can out of my life. I want to keep growing as a person!
Note: tumbler mugs perfect for Ban-san's original cocktails along with various other event goods are now accepting pre-orders. Viewing tickets for their event can be purchased until 23:59 on Sunday, December 19 2021 (JST)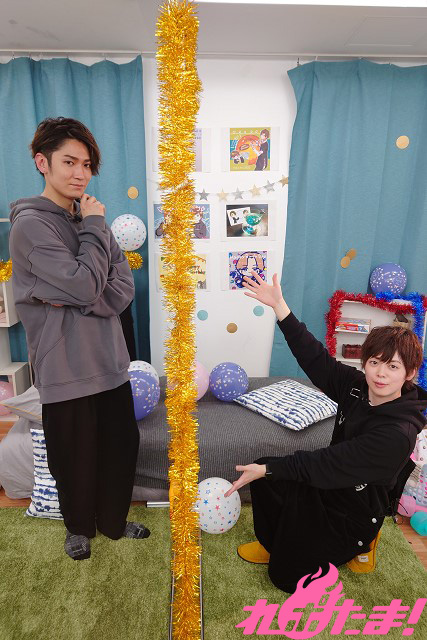 ●Channel page (Nico Nico Douga)
https://ch.nicovideo.jp/itsuboku
●Program Official Twitter
https://twitter.com/itsuboku2
【Special Gift】(applications from outside Japan not available)
One person will receive a handwritten signature from Ban-san and Ichikawa-san!
Applicants can apply via first following the Repotama official Twitter @repotama (https://twitter.com/repotama/) and also retweeting the tweet of this article. The winner will be contacted via DM.
Application deadline: Until January 7, 2022 (Fri) at 23:59