Make Kamagaya known to the world! "The Legend of Super Normal City Kamagaya" Interview with Risa Okuma, voice of Kunugi Nomichibe
---
(Repotama is an online magazine covering news on everything anime, and we have recently started trying out posting articles in English! If you enjoyed this article, we'd really appreciate it if you'd consider sharing it and following us on Twitter!)
▲Left: Mei Okada as Manu, Right: Risa Okuma as Kunugi Nomichibe
The production of the local anime Chou Futsuu Toshi Kamagaya Densetsu was announced, with the purpose of helping to revitalize the region. Crowdfunding is currently underway, and the first episode of the show is scheduled to be released around February 2022.
This time, we go to interview Risa Okuma, a Kamagaya City native, who will be playing the main character Kunugi Nomichibe.
―What made you want to become a voice actress in the first place?
Risa Okuma: When I was an elementary school student, a leaflet from an entertainment training school was included along with the newspaper, and after asking my parents "What is this?" I became aware for the first time of the entertainment world. After that, in junior high I started watching anime and became firmly aware of what I wanted to do professionally in the future as a voice actress.
―When exactly did you decide for certain "I want to become a voice actress"?
Okuma: When I got into junior high, I noticed that my voice sounded sort of different from the other kids around me, and that's what started it. I was already interested in the world of entertainment, and I decided to think positively about my voice and thought "I want to use this voice somehow!" After I got into high school, I got the opportunity to join a club for broadcasting and reading scripts out loud. I also got to do plays over the internet with other people I met online who had the same dreams as me.
―What sorts of anime were you influenced by?
Okuma: "Boku wa Tomodachi ga Sukunai". A lot of very high-impact characters appeared in the show, and I quickly became attracted to it. Also, "Nagi no Asukara" was a major one. I was fascinated by how beautiful the drawn backgrounds were in this anime.
―Are there any voice talents in particular you are inspired by?
Okuma: Yuki Aoi-san. She can play a very diverse range of different characters. I would like to do my best to play various sorts of characters as well!
―What made you want to apply for this role?
Okuma: Since the high school I went to is located in Matsudo City, I also auditioned for the previous work in this series "The Legend of Super Normal City Matsudo". Then, the auditioning for Kamagaya Legend started, so I thought "Let's go for it!" Unfortunately I wasn't able to get the role in Matsudo Legend, but I'm really glad that the lead role was taken up by someone from that city!
―Please tell us about your character Kunugi Nomichibe.
Okuma: This is a full-blown Chunibyo girl who has a very Japanese atmosphere about her. She's highly dextrous and possesses abilities that are the complete opposite of myself. There's a scene where Kunugi casts a spell, but it's a parody right in line with the Super Normal series. I really love magical girl anime, so I played this part in high spirits!
―Please tell us about a personal memory from Kamagaya.
Okuma: I lived in the Netherlands and the United States for a time because of my father's job, and I studied abroad as well. In the United States, I was taken out to watch Major League Baseball and I was able to see Shinjo (currently the manager of the Nippon-Ham Fighters) playing. There's a stadium for the Nippon-Ham Fighters in Kamagaya, so I felt like it was fate!
―Are there any specialities in Kamagaya?
Okuma: There's also a station of the same name, but one thing is the Kamagaya Daibutsu. It's a Great Buddha statue dating back to the Edo period! That's all I'll say. I really hope you'll come to see it!
―Have you received any direction for your performance?
Okuma: I've been told "Just act like how you did at the audition." But I had forgotten about some of the details of what made my initial acting work out because I had dialogue with the other characters at that time. I was asked "Aren't you acting a little too old for the character?" (laughs)
I'll be careful to remember that I'm playing a junior high student and give the performance my all!
―Currently, it seems that crowdfunding is underway for this project.
Okuma: For me, since I'm aiming to become a more established voice actress, the "ability to appear as a cast member" in the credits is an attractive offer. Also, I'm glad that a character that I thought up myself is going to appear.
―What would you like to do with the Super Normal series going forward?
Okuma: I haven't been able to appear at an in-person event yet, so I definitely want to be able to interact with the fans more directly. Also it wouldn't be within Kamagaya Legend… but I'd like to play a cheerful, shouting character in contrast to Kunugi-chan.
―Please tell us about your current ongoing activities.
Okuma: I belong to a performance group called "Tokyo Theater Girls." With the main concept being "Drama x Idols", I'm active with them (https://www.tej2018.net/) so please check it out if you're interested!
―Could you give us one last message?
Okuma: Kamagaya may not be particularly famous nationwide. However, Kunugi-chan creates an atmosphere atypical of a main character, and I hope to help really push Kamagaya to the world with Kunugi-chan. Your support of the series is hugely appreciated!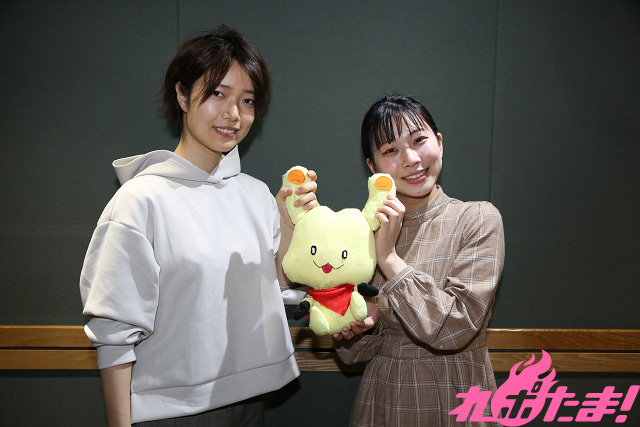 <Interviewer・Photos / Dandy Saeki・Article wording (editing) by Repotama! editorial department>
【Crowdfunding Info】
"Dekiru Machi Project" is currently carrying out crowdfunding to liven up the contents of the work!
It will conclude on December 18 (Sat) at 23:59 JST, so please check it out right away!
☆Details below
●Hands-on with Gotochi Anime "Chou Futsuu Toshi Kamagaya Densetsu" Project
https://fanbeats.jp/projects/243
●Tega-chan Official Twitter
@kashiwaanime
●Dekiru Machi Project Official Twitter
@dekimachi
【Recommended hashtags】
#Kamagaya #Chiba #GotochiAnime
●Official Twitter
@sato_irodoru
【Present】(please note: applications from outside Japan are not available)
Okuma-san's autograph on special coloured paper will be presented to one person!
Those who wish to apply are asked to please follow the Repotama! Official Twitter @repotama(https://twitter.com/repotama/)and retweet the tweet of this article. We will contact the winner via DM.
Application period: until December 29 (Wed) 2021 at 23:59 JST