Fuuka doesn't want to be apart from Kukuru, and she worries about joining in on a large-scale project. TV anime The Aquatope on White Sand Episode 23 synopsis and early scene preview release
---
(Repotama is an online magazine covering news on everything anime, and we have recently started trying out posting articles in English! If you enjoyed this article, we'd really appreciate it if you'd consider sharing it and following us on Twitter!)
Beginning July 8 (Thurs) 2021, the completely original new anime The Aquatope on White Sand by P.A. WORKS will be airing every Thursday from 24:00 on TOKYO MX / BS Fuji / MBS / Ryukyu Broadcasting / Toyama Television Broadcasting.
This time, the synopsis and early scene preview of episode 23 "The Future of the Aquarium" have been released.
【Episode 23 "The Future of the Aquarium"】
Hoshino announces a large-scale project aimed at further research into marine life and tackling environmental issues. Fuuka is drawn in quickly after hearing at the cape about how sea turtles have been dying off as a result of environmental pollution. However, she hears that in order to participate in the project, two years of training in Hawaii will be necessary, and since Fuuka doesn't want to leave she struggles with deciding whether to participate. At the same time, Kukuru has an interview with Hoshino about being transferred out of management and into a keeper position at the aquarium. Then, on the spot, she hears about Suwa's past…?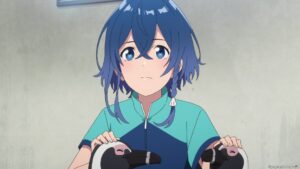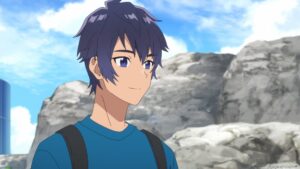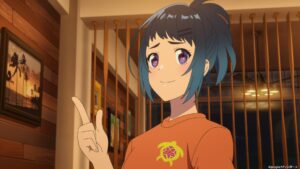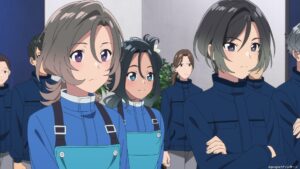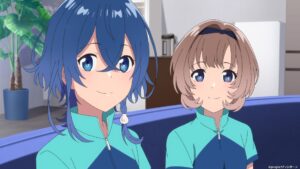 【Anime Overview】
The Aquatope on White Sand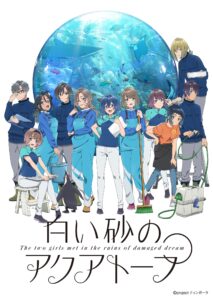 【introduction】
Director Toshiya Shinohara, Series Composition by Yuko Kakihara, and production by P.A.WORKS.
From creating the series "Iroduku: The World in Colors", which depicts the story of a girl's youth, they have come together to create a completely new original anime set in a small aquarium in Okinawa.
Kukuru Misakino is an 18 year-old high school girl who works in the aquarium, and one day she meets Fuuka Miyakawa, who lost her dream of becoming an idol in Tokyo and escaped to Okinawa. The two girls will spend their days in the aquarium while each carrying their own thoughts close to them.
However, the impending crisis of closure is fast approaching this special place of theirs.
The girls' dreams and their realities, their isolation and their close friends, their bonds and their conflicts…
A glistening new page will be opened this summer.
【story】
"… Did you see that?"
Kukuru gently teaches about the secrets of Gamagama Aquarium.
"Sometimes, I see strange things here."
The setting is Okinawa, where the summer sun shines bright.
The aquarium is located about an hour out of Naha city by bus.
The small, somewhat deserted Gamagama Aquarium is located on a beautiful beach in the southern part of the main island of Okinawa.
An 18-year old high school girl named Kukuru Misakino is dedicated to her work there.
Going as far as to refer to her own grandfather in charge of the aquarium as "director", she loves this place more than anybody else.
One day, Kukuru meets Fuuka Miyazawa, a girl who was standing in front of a water tank with flowing hair and tears rolling down her cheeks.
Fuuka gave up her dream of becoming an idol in Tokyo and desperately ran away to Okinawa.
Time passes gently by in the peaceful Gamagama Aquarium.
Fuuka, looking for a place to stay, asks "I want to work in this aquarium."
The day-to-day lives of these two girls began to move in this direction.
However, Gamagama Aquarium, in addition to its strange happenings, also faces a looming threat of closure.
Faced with an approaching time limit, the two girls begin their move toward revamping the place.
They move forward to protect their warm place of refuge for which there is no replacement.
【Broadcasting/Streaming Info】
Broadcasting begins Thursday, July 8.
・TV broadcasting
TOKYO MX  Beginning July 8th (Thursday)  Every Thursday from 24:00~
BSFuzi  Beginning July 8th (Thursday)  Every Thursday from 24:30~
MBS  Beginning July 13th (Tuesday)  Every Tuesday from 27:00~
Ryukyu Broadcasting  From July 8th (Thursday)  Every Thursday from 25:34~
Toyama TV Broadcasting   From July 15th (Thursday)  Every Thursday from 26:05~
AT-X From July 12th (Monday) Every Monday from 23:30~
(Repeat airings: Every Wednesday from 11:30am, every Friday from 17:30pm)
・Rebroadcasting Info
TOKYO MX  Beginning July 9th  Every Friday from 19:30~
・Digital Distribution
Priority streaming on ABEMA
d Anime Store, Amazon Prime Video and others will release episodes sequentially.
【CAST】
Kukuru Misakino: Miku Ito
Fuuka Miyazawa: Rikako Aida
Tsukimi Teruya: Azumi Waki
Karin Kudaka: Lynn
Kai Nakamura: Shimba Tsuchiya
Kuya Yakamashi: Yohei Azakami
Chiyu Haebaru: Yui Ishikawa
Kaoru Shimabukuro: Mikako Komatsu
Akari Meda: Kiyono Yasuno
Marina Yonekura: Nao Toyama
Eiji Higa: Yusuke Nagano
Akira Hoshino: Masaki Terasoma
Tetsuji Suwa: Satoshi Hino
Bondo Garando: Shuhei Sakaguchi
Kukuru's grandfather (Oji): Hiroshi Yanaka
【STAFF】
Original Creator: Project Tingara
Director: Toshiya Shinohara
Series Composition: Yuko Kakihara
Original Character Designer: U35
Character Designer・Chief Key Animation Supervisor: Yuki Akiyama
Art Director: Kurumi Suzuki
Art Supervisor: Junichi Higashi
Art setting: Yoshinori Shiozawa
Director of Photography: Satoshi Namiki
Color design: Naomi Nakano
3D Director: Haruki Suzuki
Editor: Ayumu Takahashi
Special effects: Masahiro Murakami
Music: Yoshiaki Dewa
Music Production: Lantis
Sound Director: Haru Yamada
Production: Infinite, P.A. WORKS
【Theme Song Info】
■Part 2
Opening Theme Music: ARCANA PROJECT "Tomedonai Shiosai ni Bokutachi wa Nani wo Utau Darоu ka"
Ending Theme Music: Risa Aizawa (Dempagumi.inc.) "Shingetsu no Da Capo"

■Part 1
Opening Theme Music: ARCANA PROJECT "Tayutae, Nanairo"
Ending Theme Music: Mia REGINA "Tsukiumi no Yurikago"
■ Official Site https://aquatope-anime.com
■ Official Twitter aquatope_anime
(c)Project Tingara