After being saved by Erika, Sakaki discovers that he has gained a "deathless" constitution. TV anime The Night Beyond the Tricornered Window Episode 10 synopsis and early scene previews released
---
(Repotama is an online magazine covering news on everything anime, and we have recently started trying out posting articles in English! If you enjoyed this article, we'd really appreciate it if you'd consider sharing it and following us on Twitter!)
TV anime The Night Beyond the Tricornered Window is being broadcast on TOKYO MX and other stations and platforms beginning October 3, 2021 (Sun).
This time, the early scene previews, title and synopsis of the 10th episode have been released.
【Episode 10 "Resolution"】
Mikado, Mukae, Sakaki, and Erika head to the teacher's home to help Hiyakawa.
However, the incredible power acquired by the teacher blocks their path, and they cannot proceed.
Trying to force an opening, the power holding them back is unleashed on Sakaki. However, the power merely passes through his body…!?
Somehow, Sakaki has received a "deathless" bodily constitution after having his life saved by Erika.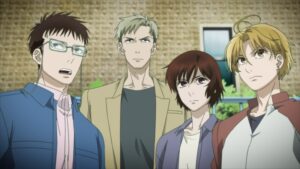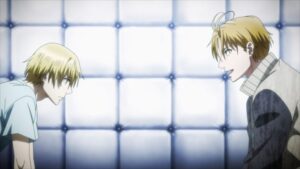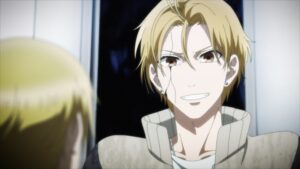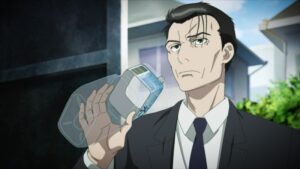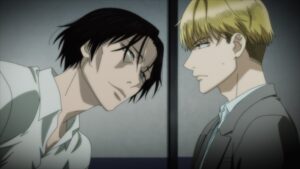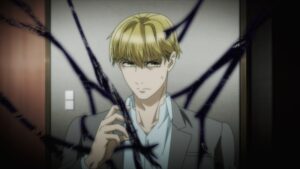 【Anime Overview】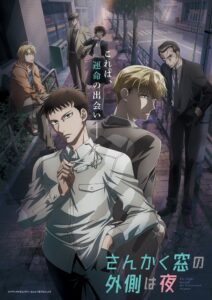 A ghost-detective buddy story and "supernatural entertainment", this series is being broadcast on TOKYO MX and others beginning from
22:00
on
October 3, 2021 (Sunday).

Streaming exclusively from FOD!
【Introduction】
"My destiny, is you."
The strongest relationship in history between ghost detectives is born from an exorcist and servant!
Kousuke Mikado has been able to "see" eerie things from a young age, and his talent is discovered by a ghost detective named Rihito Hiyakawa who he meets by chance. He is forced to form a ghost detective duo with him.
"This is a fateful encounter."
Hiyakawa is obsessed with Mikado, and Mikado cannot leave the dangerous Hiyakawa on his own. What is the truth derived from this "fate" that comes to light after solving many cases?
The original manga The Night Beyond the Tricornered Window was written by Tomoko Yamashita (published by Kurofuneko / Libre).
The best-selling manga has exceeded circulation of 2 million copies, and has been made into an anime following the live-action film! A new sensational "sixth-sense entertainment" with the triple themes of horror, mystery, and buddy love, begins this fall!
[Original]
Tomoko Yamashita "The Night Beyond the Tricornered Window" (All 10 volumes on sale via Kurofune Comics / Libre)
【Cast】
Kousuke Mikado: Nobunaga Shimazaki
Rihito Hiyakawa : Wataru Hatano
Keita Mukae: Souma Saitou
Erika Hiura: Chika Anzai
Hiroki Hanzawa: Satoshi Mikami
Kazuomi Sakaki: Junichi Suwabe
and others
【Staff】
Director/Character Designer: Yoshitaka Yasuda
Chief Director: Daiji Iwanaga
Series Composition: Ayumi Sekine
Animation Production: Zero-G
Production: Sankakumado Project
【Theme Songs】
OP theme: "Saika" Song by FREDERIC
ED Theme: "Breaker" Song by Wataru Hatano
【Broadcasting/Streaming Info】
TOKYO MX From October 3rd, every Sunday from 22:00
Sun TV From October 3rd, every Sunday from 23:30
BS Nippon Television From October 5th, every Tuesday from 24:00
CS Home Drama Channel beginning November 19, every Friday from 2:00am (2 episodes broadcast)
FOD From October 3rd, new episodes broadcast every Sunday from 22:00
FOD, Tver, GYAO all make the most recent episode available to view for a week after it airs!
【PV】https://youtu.be/gDO1Ydjav80