In a one-person radio show, her passion for hobbies comes forth! Interview with Sayumi Watabe starring in "Lashinbang Radio" for November 2021
---
(Repotama is an online magazine covering news on everything anime, and we have recently started trying out posting articles in English! If you enjoyed this article, we'd really appreciate it if you'd consider sharing it and following us on Twitter!)
"Lashinbang" is a retailer that buys and sells used anime goods, figures, DVDs, Blu-rays, etc. across Japan. In store, a radio program featuring popular voice talents is being broadcast in the first and second half of every month. After the in-store broadcasting period is over for each voice actor/actress, the video archive of the show is being made available via YouTube.
The person starring in the November 2021 broadcasting is the familiar Sayumi Watabe, starring in anime such as "Build-Divide-#000000-" as Sakura Banka, "Muv-Luv Alternative" as Marimo Jinguuji and "WIXOSS DIVA(A)LIVE" as Sanga Shinonome. Doing a one-person radio show for the first time in a while, she worries that maybe she talked too much…? We got a chance to speak with her after the recording.
―Please give us your impressions of the recording of the program.
Sayumi Watabe:I was really nervous because I haven't had too many opportunities to do a radio show by myself. I have appeared in a lot of animation and narration but I haven't had many radio appearances, so I was kind of scared and thought to myself "What if people tune out when I start sharing personal stories?" (laughs)
―Please tell us what you watched out for during the program's recording.
Watabe:I guess I tried to avoid using too many random or strange words that I use in my private life? (laughs)
Also, since I'm from Hokkaido, that dialect will start cropping up in my speech if I'm not careful so I tried to speak in a way that people from all over could understand me clearly.
Also, people often say to me "Your outward appearance and the way you speak are totally different". People tend to think that I look like a mature adult, so I was worried that listeners might feel quite a gap in their expectations for me once I start talking.
―I heard that you gave a simulation for the amount of money you can spend via "Nattoku Kaitori" on goods for your favourite Sentai hero.
Watabe:That's right, I actually looked up goods from all kinds of different works.
I have certain goods from different Sentai works such as "Zyuden Sentai Kyoryuger" and "Tokumei Sentai Go-Busters" that got me into the genre in the first place, so I'm thinking of looking up the price for these things when I go home… I'm not going to sell them though? (laughs) I think a lot of us are still spending a lot of time indoors, so I hope everyone is able to have a lot of fun while inside!
―So, what got you into the Tokusatsu genre in the first place?
Watabe:A particular voice actress named Mari Hino recommended Kyoryuger to me and told me it was really interesting, so it was a lot of fun to borrow a DVD of it and watch it. I enjoyed watching Sentai Hero works with my brothers and sisters when I was a little kid, but I wasn't really old enough to really appreciate everything that was going on while watching it. There are lots of heroes in this work, and they've all got unique and strong personalities. I'm totally into it now!
―In the "Arbitrary New Anime Audition" segment of the program, I heard that you combined three cards together to come up with a non-existent anime title and then give a mock audition performance.
Watabe:I gave it three attempts, but the first couple shots were such a mess… It was kind of a tough concept to work with from the start. (laughs)
On the third attempt, I came up with a "Mysterious Cat Detective", and the setting was "an interesting story about a mysterious cat detective and a high schooler always by his side". Somehow, I kind of made it through this attempt well enough… (laughs)
―In the "Lashinbang Quiz", what were the difficult questions that were asked relating to "Lashinbang"?
Watabe:I've always enjoyed quizzes, so I'm good at understanding difficult-to-read place names. I'm just making a claim about myself of course, but I really do give good answers so please check out how well I did!
―What question stuck with you the most in the "answering question-by-question" segment where you answer questions from fans?
Watabe:I had a hard time when I was asked to answer the question "Please tell us your three favourite characters that you want to marry." If anybody's interested, I'd really be happy if you gave that part a listen. Anyway, I was really impressed by all of the questions everybody asked!
―If you could become a shop manager at "Lashinbang", what would you want to try doing?
Watabe:First, I'd put the goods related to characters I've played in prominent and obvious places in the store. (laughs)
Also, since I've recently become quite invested in collecting trading cards, I would like to make a place where everybody can gather up to trade cards, metal badges, rubber straps, and those kinds of collectables.
Also, I think it would be great if I was able to promote all the various goods and what makes them each special in a knowledgeable way. I'd be able to recommend relevant and interesting works to people, and probably be able to make friends with people who have similar interests to myself.
―Lastly, please give us a final message.
Watabe:I'm just saying it again, but while I don't have a lot of experience doing a radio show alone, I'd be really happy if anyone was able to learn more about me on this show, as well as if they could add some of the things I talk about to their collection of fun memories related to shopping.
Also, since you can also listen to it on YouTube, even if you don't have a Lashinbang store near your house you can easily enjoy the show online. And if you do get a chance to go to a store someday, I really hope you'll enjoy shopping there while remembering 'Oh yeah, Watabe talked about this on the show!'"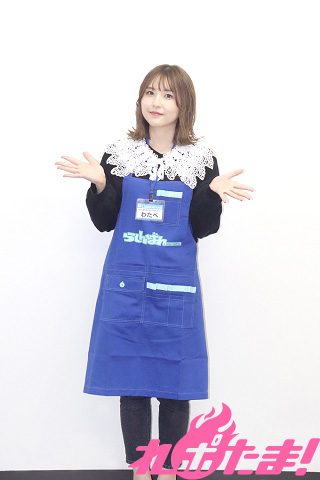 <Interviewer / Dandy Saeki・Article wording (editing) by Repotama! editorial department>
● Lashinbang YouTube channel
https://www.youtube.com/channel/UCD6rv8KsGnrQZFR9Ax6CSmg
【Present】(please note: applications from outside Japan are not available)
Watabe-san's autograph on special coloured paper will be presented to one person!
Those who wish to apply are asked to please follow the Repotama! Official Twitter @repotama (https://twitter.com/repotama/) and retweet the tweet of this article. We will contact the winner via DM.
Application period: until November 12 (Fri) 2021 at 23:59 JST