The Aquatope on White Sand's story will continue in part 2 of the season! The 3rd key visual and a new PV have been released. Additionally, new characters played by Mikako Komatsu, Nao Toyama and others have also been revealed.
---
(Repotama is an online magazine covering news on everything anime, and we have recently started trying out posting articles in English! If you enjoyed this article, we'd really appreciate it if you'd consider sharing it and following us on Twitter!)
Beginning July 8 (Thurs) 2021, the completely original new anime The Aquatope on White Sand by P.A. WORKS will be airing every Thursday from 24:00 on TOKYO MX / BS Fuji / MBS / Ryukyu Broadcasting / Toyama Television Broadcasting.
Next time, the 13th episode will kick off part 2 of the season, and the stage of the story will change from Gamagama Aquarium to Aquarium Tingara!
After the 12th episode's airing, the 3rd key visual and part 2's PV were also released.
【3rd Key Visual Release】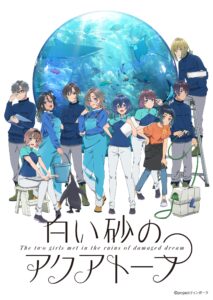 Here in the 3rd key visual, Kukuru and the others who worked hard from the beginning to protect Gamagama Aquarium as well as Chiyu who came to the aquarium later in the story are featured, and new characters that will be making their debut in part 2 are also featured in the lineup!
Kukuru and the others are shown here for the first time wearing the work uniform of Aquarium Tingara.
【Part 2 PV Simultaneous Release】https://youtu.be/uSu8Y4F_4WE
In part 2's PV, taking place after the closing scene of part 1 where Kukuru and Fuuka say goodbye at the airport, new characters from part 2 make their first appearance!
After graduating high school, Kukuru finds work at Aquarium Tingara and begins the next chapter in her life, but how will Kukuru get along working on this new stage with new friends? It's the kind of story we can't wait to see more of!
【New Characters and Cast Info】
Close to Chiyu and a fish keeper・Kaoru Shimabukuro played by Mikako Komatsu.
A sociable university student doing part-time office work・Akari Maeda played by Kiyono Yasuno.
A girl with a friendly personality in charge of taking care of the penguins・Marina Yonekura played by Nao Toyama.
A new keeper at the aquarium who just finished graduate school・Eiji Higa played by Yusuke Nagano.
A longtime acquaintance of Oji, with a jovial spirit and recently back from Hawaii・Akira Hoshino played by Masaki Terasoma.
The vice-director of the aquarium, he works in management and shows little emotion・Tetsuji Suwa played by Satoshi Hino.
A gentle personality and the chief keeper・Bondo Garando played by Shuhei Sakaguchi.
【Kaoru Shimabukuro】
Kaoru is a keeper working with the fish at Aquarium Tingara, and is struggling to work with Kuya and Gousuke who work in the same position but are used to working in a more relaxed, free manner. Well-acquainted with Chiyu, the two often act together.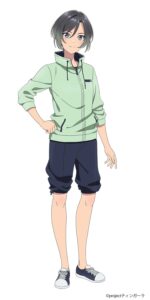 ■Comments from Mikako Komatsu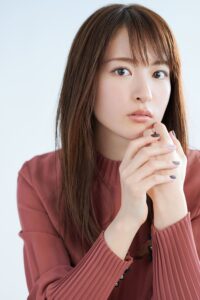 Q1. Could you tell us your impression of this work?
When I think about Director Shinohara working with P.A.WORKS, the first thing that comes to mind is the impression of something intrinsically "blue".
The kind of blue that you see in the sky and sea. In youth. The blue reflected by flowing tears. The stage of this work is Okinawa, with sea creatures and an aquarium! A beautiful blue stage. Even the main character Kukuru's hair is blue!
In contrast with the beautiful setting, the story revolves around the characters struggling to confront problems and deal with them as they pursue their own dreams for the future while staring reality in the face.
Q2. Could you tell us about the character you play and the enthusiasm you feel for the role?
Kaoru is a character that refers to herself in a more gender-neutral way and speaks in a more masculine way sometimes, to the point where Kuuya mistakenly believes her to be a handsome guy.
At the beginning, she seems to be a little cold and difficult to get along with, but as the story progresses more sides of her come to light. The gap is pretty, uh, well… (laughs)
She has a strong sense of responsibility and a sense of duty, and gives off the impression of somebody who always pays close attention to her surroundings.
【Akari Maeda】
A university student working part time in the office at Aquarium Tingara. She has a friendly personality and doesn't hesitate to talk freely with people she meets for the first time. She likes poking Kukuru's cheeks.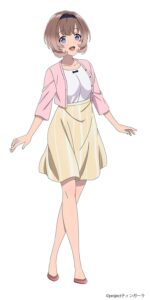 ■Comments from Kiyono Yasuno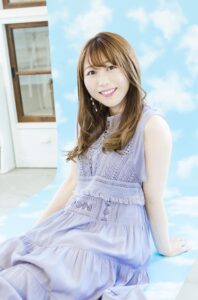 Q1. Could you tell us your impression of this work?
I had the overall impression that this is a story full of characters from various backgrounds gathering together in an aquarium, and struggling powerfully to move toward their respective dreams and futures.
I began participating from part 2 of the season's airing, but often I was surprised by the struggles all the characters face. "Work" can't always be fun, but I feel that this story gently brings to the viewer that feeling of joy one gets when being able to resonate with somebody else amid difficult circumstances.
Q2. Could you tell us about the character you play and the enthusiasm you feel for the role?
Akari-chan is a university student working part-time at Tingara. She hasn't decided what she wants to do in her future yet, and in some sense she has wound up in a special position in the sales department. She still has no passion, commitment, or guiding philosophy for her life.
I felt like such an "empty" person was so full of potential for her future. She's an intelligent person who gives off the impression of somebody laid-back, but is really quite aware of what's going on around her.
What will this person who still lacks a lot of answers find for herself at Tingara? Please keep an eye on how this girl's story plays out.
【Marina Yonekura】
A keeper working at Aquarium Tingara. Along with Chiyu, she takes care of the penguins. She is friendly with everyone she meets and is the life of the party even among the penguins.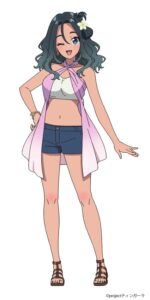 ■Comments from Nao Toyama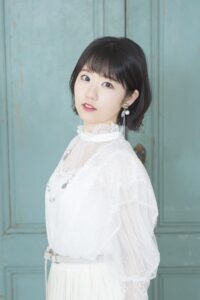 Q1. Could you tell us your impression of this work?
It's a warm-hearted story where all the sea creatures are drawn adorably, and the characters are so striking with each brave step they take forward.
I'm really glad I got to be involved in this lovely work because of the calm atmosphere of the Okinawan setting and the kind hearts of everyone involved in the story… Even now I feel like I'm going to tear up just by thinking about it.
Also… the penguins are so cute that I always feel better just by looking at them. And I just love the African penguins in particular!!
Q2. Could you tell us about the character you play and the enthusiasm you feel for the role?
Marina is an energetic girl with the energy of the sun. She has Venezuelan roots and sometimes speaks in Spanish, so I'm doing my best in dubbing!
There aren't any barriers regardless of who she talks to and she really enjoys her time with the sea creatures, so I hope everyone can feel this girl's bright and happy aura.
【Eiji Higa】
Eiji is a new keeper who just started working at Aquarium Tingara after finishing graduate school. Glasses are his trademark. Guided by Kaoru, he is working as a keeper with the fish. He loves fish so much that he's developed a habit of comparing just about anything to them.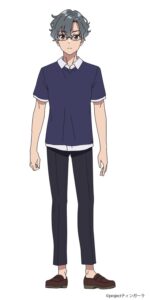 ■Comments from Yusuke Nagano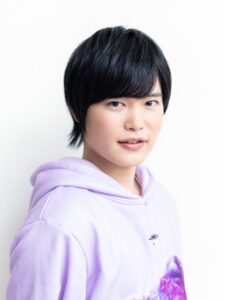 Q1. Could you tell us your impression of this work?
Okinawa is a beautiful setting, and I've been thinking that the subtleties of the characters' hearts and the changes within their relationships are even more impressive to the viewer because of it.
And, of course, the sea creatures are all drawn adorably and in a lively way, and have an element of mystery to them as well. It makes me want to go to the aquarium!
Q2. Could you tell us about the character you play and the enthusiasm you feel for the role?
Essentially Eiji is a person with a calm disposition, but he's very passionate about fish and loves to talk about them. He says weird things in a completely serious way, so it became a game of how far I could really go with making that aspect of him interesting and funny.
I hope that my performance as Eiji adds a unique color to this already vibrant story that only Eiji can bring.
【Akira Hoshino】
The director of Aquarium Tingara. With a jovial personality and just back from Hawaii, he sometimes surprises everyone with the instructions he gives. Oji has been acquainted with him for many years. As though by fate, he welcomes Kukuru, the others and the sea creatures all from Gamagama Aquarium to Aquarium Tingara.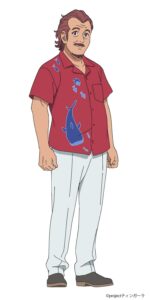 ■Comments from Masaki Terasoma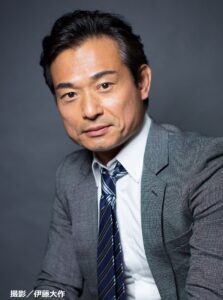 Q1. Could you tell us your impression of this work?
A warm and wonderful work. A gentle story involving sustainable development goals and the various characters and animals Kukuru has become involved with. I think SDG's are an issue being discussed by modern people all over the world right now.
What's a creature? What's a person? Earth, the universe, life itself, what is it?! And other such questions might just get asked here~
Q2. Could you tell us about the character you play and the enthusiasm you feel for the role?
Akira Hoshino, the director, is a Japanese-American who grew up in Hawaii and speaks English natively. At the first recording, I was asked "Now, please speak in English," of all things… I did my best, but as for the result of my efforts…?!
Well, please make your own judgement on that… But, please, be gentle!
The director is a very broad-minded person. I hope you can feel that in my performance.
【Tetsuji Suwa】
The vice-director of Aquarium Tingara and works in management. He is quite emotionally detached from the work he does and really doesn't show much emotion at all. He believes that the work done in management is the most important thing to keep the aquarium afloat. He is strict with Kukuru, but what are his feelings behind this?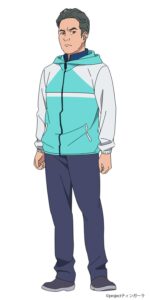 ■Comments from Satoshi Hino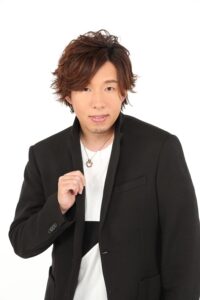 Q1. Could you tell us your impression of this work?
The animation and music are very beautiful and the story itself is extremely attractive too.
Taking place at the aquarium, my first impression was that it was a story that depicts the conflicts, bonds and development of youth with Fuuka and Kukuru at the center. I think that an aquarium is an ideal place to quietly reflect on your own heart and life as you stare through the glass at the animals, and I was really impressed with how this special, unique place was so realistically depicted on-screen.
Q2. Could you tell us about the character you play and the enthusiasm you feel for the role?
Tetsuji Suwa is the vice-director of Aquarium Tingara, and is a very serious person who is responsible in the work he does.
However, because his opinions are held so strongly, he comes off as someone who's very harsh, yet he is also a person who can make intelligent, correct decisions. I hope everyone will be able to see the seriousness of my performance of this very straightforward, frank character.
【Bondo Garando】
The chief keeper of Aquarium Tingara. He has a habit of saying, "Well, well…" often and has a gentle personality, but sometimes things go wrong as a result of his more loose attitude.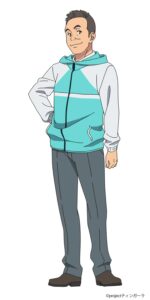 ■Comments from Shuhei Sakaguchi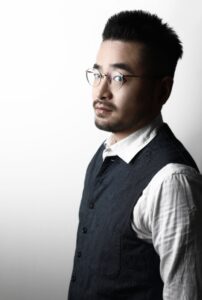 Q1. Could you tell us your impression of this work?
To be honest, I'm actually not good with fish. Actually, I still can't even bring myself to touch one.
But I like aquariums. Or, rather, I started liking them after being overwhelmed by the massive scale of Churaumi Aquarium in Okinawa, which I went to on my honeymoon.
Until just a few years ago, I had a yearly passport for a certain aquarium, and it was a common spot for families to go to on rainy days.
Because of corona, I haven't been able to go for a while. And it was at this time that it was decided that I would be appearing in this work.
"Absolutely, let's take the children to see Churaumi Aquarium."
This is a work that gives me that special feeling again.
Q2. Could you tell us about the character you play and the enthusiasm you feel for the role?
I think it would be fun to work in an environment where my superiors and bosses were like Garando-san (lol). Having that sort of laid-back attitude.
I played the part while paying careful attention to have an air of deliberate imperfection but to not be stupid, and to be relaxed but not careless.
I hope that the viewer can enjoy the gap between Garando and the much more stoic vice-director.
【Radio program special edition broadcast has been announced】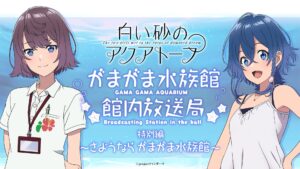 The radio program "The Aquatope on White Sand Gamagama Aquarium Broadcasting Station" is being broadcast every other Friday via the internet radio station Onsen.
This time, the special edition broadcast "The Aquatope on White Sand Gamagama Aquarium Broadcasting Station~Goodbye Gamagama Aquarium" will be aired!
Miku Ito (voice of Kukuru Misakino), and Lynn (voice of Karin Kudaka) will be appearing and looking back on the memories made at Gamagama Aquarium during part 1 of the season!
Additionally, at the regular broadcast time, Miku Ito and Lynn will announce the first prize from the selected slogan introduced in the segment "Let's Think of a Slogan for Gamagama Aquarium!"
Please be sure to tune in below!
Radio official site https://www.onsen.ag/program/aquatope
【Anime Overview】
The Aquatope on White Sand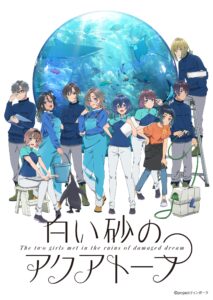 【introduction】
Director Toshiya Shinohara, Series Composition by Yuko Kakihara, and production by P.A.WORKS.
From creating the series "Iroduku: The World in Colors", which depicts the story of a girl's youth, they have come together to create a completely new original anime set in a small aquarium in Okinawa.
Kukuru Misakino is an 18 year-old high school girl who works in the aquarium, and one day she meets Fuuka Miyakawa, who lost her dream of becoming an idol in Tokyo and escaped to Okinawa. The two girls will spend their days in the aquarium while each carrying their own thoughts close to them.
However, the impending crisis of closure is fast approaching this special place of theirs.
The girls' dreams and their realities, their isolation and their close friends, their bonds and their conflicts…
A glistening new page will be opened this summer.
【story】
"… Did you see that?"
Kukuru gently teaches about the secrets of Gamagama Aquarium.
"Sometimes, I see strange things here."
The setting is Okinawa, where the summer sun shines bright.
The aquarium is located about an hour out of Naha city by bus.
The small, somewhat deserted Gamagama Aquarium is located on a beautiful beach in the southern part of the main island of Okinawa.
An 18-year old high school girl named Kukuru Misakino is dedicated to her work there.
Going as far as to refer to her own grandfather in charge of the aquarium as "director", she loves this place more than anybody else.
One day, Kukuru meets Fuuka Miyazawa, a girl who was standing in front of a water tank with flowing hair and tears rolling down her cheeks.
Fuuka gave up her dream of becoming an idol in Tokyo and desperately ran away to Okinawa.
Time passes gently by in the peaceful Gamagama Aquarium.
Fuuka, looking for a place to stay, asks "I want to work in this aquarium."
The day-to-day lives of these two girls began to move in this direction.
However, Gamagama Aquarium, in addition to its strange happenings, also faces a looming threat of closure.
Faced with an approaching time limit, the two girls begin their move toward revamping the place.
They move forward to protect their warm place of refuge for which there is no replacement.
【Broadcasting/Streaming Info】
Broadcasting begins Thursday, July 8.
・TV broadcasting
TOKYO MX  Beginning July 8th (Thursday)  Every Thursday from 24:00~
BSFuzi  Beginning July 8th (Thursday)  Every Thursday from 24:30~
MBS  Beginning July 13th (Tuesday)  Every Tuesday from 27:00~
Ryukyu Broadcasting  From July 8th (Thursday)  Every Thursday from 25:34~
Toyama TV Broadcasting   From July 15th (Thursday)  Every Thursday from 26:05~
AT-X From July 12th (Monday) Every Monday from 23:30~
(Repeat airings: Every Wednesday from 11:30am, every Friday from 17:30pm)
・Rebroadcasting Info
TOKYO MX  Beginning July 9th  Every Friday from 19:30~
・Digital Distribution
Priority streaming on ABEMA
d Anime Store, Amazon Prime Video and others will release episodes sequentially.
【CAST】
Kukuru Misakino: Miku Ito
Fuuka Miyazawa: Rikako Aida
Tsukimi Teruya: Azumi Waki
Karin Kudaka: Lynn
Kai Nakamura: Shimba Tsuchiya
Kuya Yakamashi: Yohei Azakami
Chiyu Haebaru: Yui Ishikawa
Kaoru Shimabukuro: Mikako Komatsu
Akari Meda: Kiyono Yasuno
Marina Yonekura: Nao Toyama
Eiji Higa: Yusuke Nagano
Akira Hoshino: Masaki Terasoma
Tetsuji Suwa: Satoshi Hino
Bondo Garando: Shuhei Sakaguchi
Kukuru's grandfather (Oji): Hiroshi Yanaka
【STAFF】
Original Creator: Project Tingara
Director: Toshiya Shinohara
Series Composition: Yuko Kakihara
Original Character Designer: U35
Character Designer・Chief Key Animation Supervisor: Yuki Akiyama
Art Director: Kurumi Suzuki
Art Supervisor: Junichi Higashi
Art setting: Yoshinori Shiozawa
Director of Photography: Satoshi Namiki
Color design: Naomi Nakano
3D Director: Haruki Suzuki
Editor: Ayumu Takahashi
Special effects: Masahiro Murakami
Music: Yoshiaki Dewa
Music Production: Lantis
Sound Director: Haru Yamada
Production: Infinite, P.A. WORKS
【Theme Song Info】
■Part 2
Opening Theme Music: ARCANA PROJECT "Tomedonai Shiosai ni Bokutachi wa Nani wo Utau Darоu ka"
Ending Theme Music: Risa Aizawa (Dempagumi.inc.) "Shingetsu no Da Capo"

■Part 1
Opening Theme Music: ARCANA PROJECT "Tayutae, Nanairo"
Ending Theme Music: Mia REGINA "Tsukiumi no Yurikago"
■ Official Site https://aquatope-anime.com
■ Official Twitter aquatope_anime
(c)Project Tingara