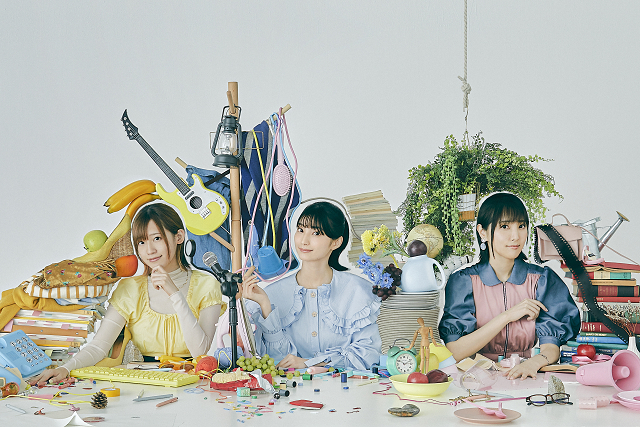 On sale Sept. 22 (Wed), the jacket photo of Voice actress unit EARPHONES' concept EP "identity" has been released. The Online Show version's jacket will use an original work made by calligraphy artist Airi Hara
---
(Repotama is an online magazine covering news on everything anime, and we have recently started trying out posting articles in English! If you enjoyed this article, we'd really appreciate it if you'd consider sharing it and following us on Twitter!)
The jacket photo of the concept EP "identity" by voice actor unit EARPHONES (consisting of members Marika Kouno, Rie Takahashi, and Yuki Nagaku) has been released.
On sale September 22 (Wed), "identity" is a concept album that you can enjoy both with your ears and your eyes. It has been announced that the jacket photo of the【Online Show Version】will be using an original work by calligraphy artist Airi Hara. Known for her unique style of expressing illustrations with names, comments received from Airi Hara are included below.
Songs included on the concept EP "identity" include a remake of the song "Seiyu's Life!" released by EARPHONES in 2015, and a dialogue video with Masumi Asano, the original creator of TV anime Seiyu's Life! will also be included on the Blu-ray.
"identity【Online Show Version】" that will be on sale via EVIL LINE RECORDS OFFICIAL STORE, will also include footage from EARPHONE's first online live, EARPHONES Theory of Evolution Online Show (held on October 31, 2020), and the jacket photo will use an original work by calligraphy artist Airi Hara. Let's look forward to its release!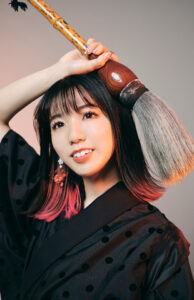 【Comment from Airi Hara】
"I'm very happy to be involved in this original and fun musical project with EARPHONES. I did the calligraphy work for the album while listening to its songs, and since the songs are both comforting and such fun to listen to, I couldn't help but find myself smiling throughout. In my work as well, I wanted to express to everyone the cuteness and uniqueness of EARPHONE's world with my brush, so I did my best to pull that off. Along with the power and energy you'll feel in their voices, I hope that you'll feel the spirit of these three in my work as well."
【Airi Hara Profile】
Born October 2, 1993 in Fukuoka Prefecture.
She started calligraphy at the age of 2 and went on to become a recipient of the Youngest Minister of Education, Culture, Sports, Science and Technology Award. After posting mainly sports-inspired works on Twitter using calligraphy in various creative ways, a lot of positive feedback from athletes in various fields was received. Airi Hara is a young calligraphy artist currently attracting attention and active within a wide range of genres, media and events.
Recently, as part of their project as the group IMY, Ikusaburo Yamazaki, Matsuya Onoe and Yu Shirota are in charge of the visual art for the Original Stage・Aimai Theater Part 1 "Akuto". Presently, the first and second parts' leaflet visuals, produced by Airi Hara, have been released.
Also, the official EC site is currently accepting orders for custom-made calligraphy art.
・EC site
https://airiharaart.official.ec/
・YouTube
https://www.youtube.com/channel/UCoz4bhYbCEGm4A5dBeimuIA/videos
・Twitter
https://twitter.com/ainooooto
・Instagram
https://www.instagram.com/airi_hara1002/
・TikTok
https://www.tiktok.com/@haraairi?lang=ja-JP
【Product Overview】
EARPHONES Concept EP "identity"
Release date: September 22 (Wed)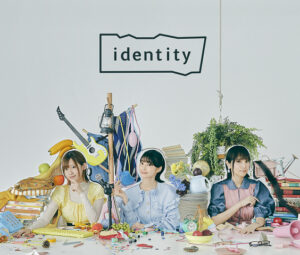 【Normal version】
Price: 3,300 yen (tax included)
Format: Blu-ray + CD
Part number: KIZX-499~500
※Contents will be announced later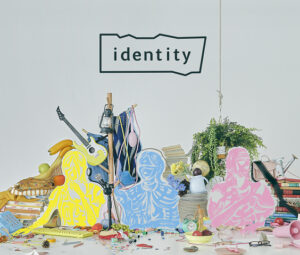 【Online Show version】
Price: 7,150 yen (tax included)
Format: Blu-ray + CD
Part number: NKZX-5~6
Contents:
【Blu-ray】 EARPHONES Theory of evolution Online Show etc.
※More contents will be announced later
●Product URL
https://kingeshop.jp/shop/artist/artist.aspx?artist=44749&ps=20&elr=44749
●"identity" sale page URL
https://elr.lnk.to/IDTMM
●EARPHONES Official Homepage
http://earphones-official.com/
●EARPHONES Official Twitter
https://twitter.com/earphone_seiyu
●EARPHONES YouTube Channel
https://www.youtube.com/channel/UCJFiq8b262KUx2px_iIjaVw
●EARPHONES Official Instagram
https://www.instagram.com