October 2021 new TV anime MIERUKO-CHAN: main cast, 1st promo video and 2nd teaser visual released. Comments from the main cast Sora Amamiya, Kaede Hondo, and Ayane Sakura have also been received
---
(Repotama is an online magazine covering news on everything anime, and we have recently started trying out posting articles in English! If you enjoyed this article, we'd really appreciate it if you'd consider sharing it and following us on Twitter!)
With the short story uploaded to Twitter becoming a big hit, the popular series MIERUKO-CHAN is currently being serialized via ComicWalker. An anime television series has been announced for October 2021.
This time, the main cast of the anime, the first promotional video, and the second teaser visual have been released.
In the main cast, Sora Amamiya will be playing the role of main character Miko Yotsuya, Kaede Hondo will play Hana Yurikawa, and Ayane Sakura will play Yuria Niguredo! Comments have been received from these three, and the character visuals have also been released.
Also, the OP theme info has also been announced!
The second teaser visual has been designed in two different types, a "visible version" and an "invisible version".
Also, a special live broadcast with the main cast will be held to commemorate the announcement of the TV anime and the launch of Kadokawa's new webcomic page Apanda! Sora Amamiya, Kaede Hondo and Arigatou Ami will be appearing live on Wednesday, July 28th.
The first gift campaign on Twitter also ran for 3 consecutive weeks in July 2021.
【2nd teaser visual released】
Can you… see it…? You don't see anything…?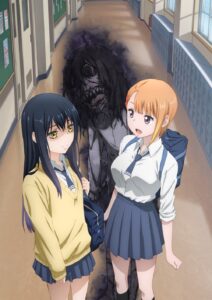 【Main cast announced and comments received】
Miko Yotsuya: played by Sora Amamiya
Hana Yurikawa: played by Kaede Hondo
Yuria Niguredo: played by Ayane Sakura
■Sora Amamiya (role of Miko Yotsuya)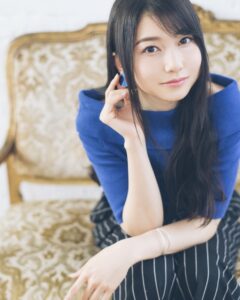 I enjoyed reading the original some time beforehand and I thought "I want to be in this anime!" so I was very happy when I found out I had gotten the role! But, I really didn't think after watching the teaser PV where my voice comes out in the beginning that people would tell me "This voice isn't like you, and has much more of a horror feel to it!" (laughs) There are all kinds of unique aspects to this work, so I'm really looking forward to everyone enjoying it!
■Kaede Hondo (role of Hana Yurikawa)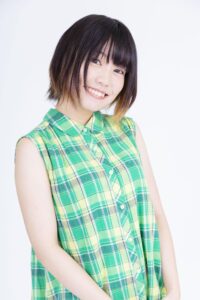 I'm Kaede Hondo, who plays the role of Hana Yurikawa!
I read the original and became a fan! I love the balance between horror and comedy so much, and it really gives you such a unique feeling in how it makes you laugh and be scared at the same time. I want to express the character of Hana who is full of life and lives life at her own pace, as well as the Hana who is simply happy to interact with Miko, as best as I possibly can. Please look forward to it!
■Ayane Sakura (role of Yuria Niguredo)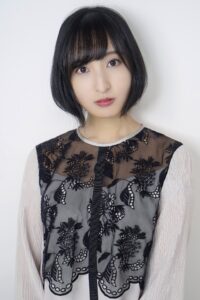 I read the original for the first time during auditions, but I couldn't stop reading through volumes 1, 2, 3 and 4 and said to myself "I wonder if you would be disqualified as a manga lover for missing such a great work…" I was really surprised to be able to land the role of Yuria, as it seemed to be highly competitive. I want to do my best by making the best use of my life experiences up to this point. As a fan I am really looking forward to seeing how they will take this manga work and its frame divisions, dialogue, the way the "things you can see" are drawn, etc. and change it all into a completed anime. I can't wait to see it.
【Character illustration & intro text released】
■Miko Yotsuya (CV. Sora Amamiya)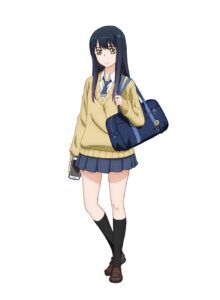 One day, this ordinary high school girl suddenly gains the ability to see hideous monsters. They're just existing as normal around her, and seeing these gruesome creatures is terrifying. She struggles every day hoping that they will disappear once she notices one of them.
■Hana Yurikawa (CV. Kaede Hondo)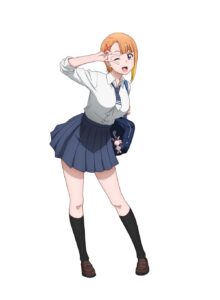 Miko's close friend and classmate. She has an innocent and cheerful demeanor, eating well and growing well (mainly around the chest). She sticks close to Miko with her spontaneous and natural words and actions. Something about her seems to often "attract" monsters…
■Yuria Niguredo (CV. Ayane Sakura)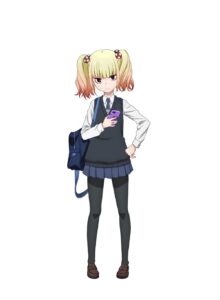 Miko and Hana's classmate. She's always alone, but it seems that she isn't being bullied or anything. It's also definitely not because I'm jealous of Hana and Miko whenever I catch glimpses of them (end quote). She wants to become a powerful psychic that others will look upon with envy.
【First PV release】
https://www.youtube.com/watch?v=HD_TGzj7oU8

【OP theme information announcement】
The OP theme for TV anime MIERUKO-CHAN has been decided to be performed as a solo song of the main character, Miko Yotsuya (character voice: Sora Amamiya)!
■TV anime MIERUKO-CHAN OP theme
"Mienai kara ne !?"
Song: Miko Yotsuya (character voice: Sora Amamiya)
Lyrics/composition: Shinji Saito (Dream Monster)
Arrangement: Ryuichi Takagi (Dream Monster)
【Detailed Staff Announcement】
Original Creator:Tomoki Izumi (serialized in WebComic Apanda / published by KADOKAWA)
Director: Yuki Ogawa
Assistant Director: Takahiro Majima
Assistant Director: Shintaro Matsushima (GYORAI EIZO)
Series composition: Kenta Ihara
Character design and animation director: Chikashi Kadekaru
Sub-character design: Kyoko Kametani, Futoshi Chikkyo, Tin
Monster Design: Makoto Uno, Yasuhiro Moriki, Futoshi Chikkyo, Katsuzo Hirata, Hiroya Iijima, Hiroyasu Oda (Studio Mogana)
Prop design: Yukinori Umetsu
Costume design: Yuka Takashina
Chief Key Animation Supervisor: Masahide Yanagisawa, Hideki Hashimoto, Katsuzo Hirata, Kyoko Kametani, Yuka Takashina
Editing: Ayako Tan
Color design: Ritsuko Utagawa
Art setting: Midori Iwasawa (KUSANAGI), Shin Watanabe (Ekachi Epilka)
Art Director: Ayano Okamoto (KUSANAGI)
Concept Composite: Junpei Takatsu
Director of Photography: Yang Xiaomu(Grafinica)
Music: Utatanekana
Music production: KADOKAWA
Sound Director: Fumiyuki Go
Sound effects: Maki Takuma (Swara Pro)
Sound production: Magiccapsule
Animation production: Passione
【July 28 (Wed) special live broadcast program】
In commemoration of the launch of the MIERUKO-CHAN anime & Kadokawa's new webcomic page Apanda, a special live broadcast program will be held! Please look forward to it!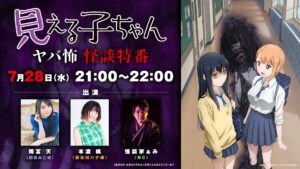 Program name: MIERUKO-CHAN yaba kowa kaidan tokuban
Scheduled Date: July 28 (Wed) from 21: 00 – 22: 00
Guests: Sora Amamiya (role of Miko Yotsuya), Kaede Hondo (role of Hana Yurikawa), Arigatou Ami (MC)
URL:https://www.youtube.com/watch?v=teQqkvjYA18
※Please note that streaming date, time and guests are subject to change without notice.
https://www.youtube.com/watch?v=teQqkvjYA18
【Anime Overview】
【Introduction】
If you saw something you shouldn't be able to see,
If you saw something you shouldn't look at,
What would you do……?
What would you do if that thing talked to you,
If it came right up to you…
What would you do……?
Would you take one look and run away?
Would you learn strange techniques, or get the help of a medium and fight them?
Well, as for the action taken by high school girl Miko Yotsuya…
Completely ignore them!
I didn't see anything, and I'm not noticing anything!
This is the story of a high school girl avoiding strange, grotesque "freaks" by making full use of an iron will to skilfully ignore what's right in front of her…
Just because you can't see them,
They're right next to you, you see…?
【Broadcasting/Streaming Info】
Scheduled to be broadcast on TOKYO MX, BS Nippon Television, AT-X and others.
It will also be distributed on d Anime Store and others.
【Cast】
Miko Yotsuya: Sora Amamiya
Hana Yurikawa : Kaede Hondo
Yuria Niguredo: Ayane Sakura
【Staff】
Original Creator:Tomoki Izumi (serialized in WebComic Apanda / published by KADOKAWA)
Director: Yuki Ogawa
Assistant Director: Takahiro Majima
Assistant Director: Shintaro Matsushima (GYORAI EIZO)
Series composition: Kenta Ihara
Character design and animation director: Chikashi Kadekaru
Sub-character design: Kyoko Kametani, Futoshi Chikkyo, Tin
Monster Design: Makoto Uno, Yasuhiro Moriki, Futoshi Chikkyo, Katsuzo Hirata, Hiroya Iijima, Hiroyasu Oda (Studio Mogana)
Prop design: Yukinori Umetsu
Costume design: Yuka Takashina
Chief Key Animation Supervisor: Masahide Yanagisawa, Hideki Hashimoto, Katsuzo Hirata, Kyoko Kametani, Yuka Takashina
Editing: Ayako Tan
Color design: Ritsuko Utagawa
Art setting: Midori Iwasawa (KUSANAGI), Shin Watanabe (Ekachi Epilka)
Art Director: Ayano Okamoto (KUSANAGI)
Concept Composite: Junpei Takatsu
Director of Photography: Yang Xiaomu(Grafinica)
Music: Utatanekana
Music production: KADOKAWA
Sound Director: Fumiyuki Go
Sound effects: Maki Takuma (Swara Pro)
Sound production: Magiccapsule
Animation production: Passione
【Anime Official Site and Social Media】
TV anime official website https://mierukochan.jp/
Anime official Twitter @mierukochan_PR
Recommended hashtag #Mierukochan
(c) Izumi Tomoki / KADOKAWA / MIERUKO-CHAN Production Committee