【A Repotama exclusive!】Two Momotaro and a rabbit set out to exterminate the Oni! Interview with Haruka Shiraishi as Sally, Nao Toyama as Mikoto, and M・A・O as Frau in TV anime Peach Boy Riverside
---
(Repotama is an online magazine covering news on everything anime, and we have recently started trying out posting articles in English! If you enjoyed this article, we'd really appreciate it if you'd consider sharing it and following us on Twitter!)
Based on a popular comic by Coolkyoushinja and Johanne and serialized in Shonen Magazine R, TV anime Peach Boy Riverside began airing in July 2021! Sally, the princess of the small Kingdom of Aldarake, meets a demon-slaying boy named Mikoto, and along with the demi-human Frau who was saved from a tight spot, they set off together on a journey of Oni extermination.
We interviewed the main cast members Haruka Shiraishi, who plays Sally (Saltherine Aldarake), Nao Toyama, who plays Mikoto (Mikoto Kibitsu), and M・A・O, who plays Frau!!
―Please tell us how you felt when you found out your roles were decided.
Haruka Shiraishi:I haven't played many characters like Sally, who's always in the lead and pushing on ahead, so I was happy to be able to take on a role like this.
Nao Toyama:I was surprised since I had said to the manager "I want Mikoto's role". Speaking in Mikoto's voice just felt natural to me, so when I actually made the role I thought "this might be fate".
M ・ A ・ O :Frau is a type of character I haven't met so much in the past, so I really felt the difficulty of the role during the audition. I decided to believe in my own interpretation of the character and gave it my best shot anyway, so I was really happy when I found out that I made the role!
―Please tell us about the characters you played.
Shiraishi:Sally has a strong desire to see the outside world, and even when being exposed to how harsh the outside world can be, she is the sort of girl who overcomes these things through her inner strength.
Toyama:At a glance Mikoto seems like a fine young man, and he is very kind to Sally when he first meets her. However, once he encounters an Oni, Mikoto's cruel side comes out, and the extreme gap leaves quite an impression on the viewer.
M ・ A ・ O:Frau is one of the "demi-humans" so detested by normal humans, but Frau approaches this calmly without any pessimism which is pretty amazing.
Frau wears a sailor uniform and is very cute, but I can't help but wonder how Frau's face and body feel to touch. (laughs)
Toyama:Frau has both beast-like traits and is quite androgynous, so I can't really imagine what kind of voice would be correct. That's why I didn't try and take the role initially, and I was hoping that someone destined for the role would take it instead. M・A・O-chan does the role perfectly!
M・A・O:Thank you very much!
Shiraishi:I was really surprised that a woman (Toyama-san) would be playing the role of Mikoto. The first time I was with Toyama-san was for the recording of the PV, but at that time she was performing in such a way that you would want to shout "that's Mikoto!" without even thinking, so I thought to myself "it IS Toyama-san after all……!"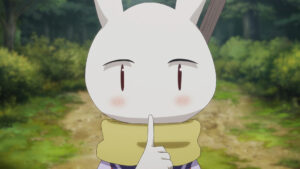 ―So the PV recording was followed by the dubbing of the anime.
Toyama:Yes, and I'm glad I had the opportunity to perform as the character before the dubbing!
Since it was a tape audition, I didn't know whether to make my voice sound "a little more masucline" or "a little more feminine" but when we recorded the PV I was told to make my voice lower, so I really challenged my voice to its limit. (laughs)
―Do you have any memories to share from the dubbing?
Toyama:Actually, I didn't realize that Sally's name "Saltherine" (Japanese: Sarutoriinu) was derived from "saru" (monkey), "tori" (bird), and "inu" (dog)!
Shiraishi:About halfway through dubbing, Toyama-san asked me "Hey, did you know about Sally's name…?" and I remember answering her with a timid "Uh, y-yeah…" (laughs)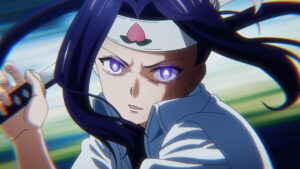 ―Since the official homepage only states the abbreviated name "Sally", this point may only be understood by fans of the original work.
Toyama:Is that so? In that case, I guess we have to read the original as well! To all our readers, thank you (laughs). By the way, something that stuck with me from dubbing was, during a particular scene, I was told "Okay, now speak in a sexy male voice"… (laughs)
This was the first time I was ever given direction like that. I did my best to think of how to do a voice that would overwhelm a girl if she heard it.
Shiraishi:You did a perfect sexy guy voice! I was totally struck by you….
Toyama:Really?! I'm so happy to hear that! By the way, I did the voice in everyday scenes as well, so please try and find out which scenes it pops up in. (laughs)
―This particular work is based on the story of Momotaro, but what are some stories and fairy tales that were read to you when you were little that left an impression on you?
Toyama:For me it was "Hansel and Gretel". Since I was a child, I remember being impacted by how amazing a "candy house" was. It's actually a scary story though. (bitter laugh)
Shiraishi:For me it was "Buying Mittens". The young fox transforms into a human and heads into a human city, but the transformation of his hand comes undone while he's there. Regardless, the kind person at the store still sells the fox a pair of mittens despite knowing what he really is, and it's such a heartfelt story that I still love today.
M・A・O:My mom read me "Little Red Riding Hood" when I went to bed, but she also actually performed as the characters as she read, and I was too scared of the wolf to sleep properly after. (laughs)
―Finally, do you have a message to share with our readers?
M・A・O:Characters with many different beliefs and convictions will be appearing in the show. Please pay close attention to how this point will relate to Sally and the party!
Toyama:This work has an element of "uncovering a mystery" in it that's unique to the TV anime version. Since it varies from the original work, it won't be following a standard linear progression, and the next episode might start off in a completely different timeline from a totally different scene. I hope everyone will enjoy this too!
Shiraishi:While playing the role, I gained courage from the story of Sally's personal growth. I hope everyone will watch and enjoy the party's journey along with Sally's development. Please check it out!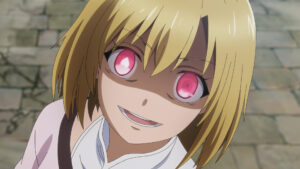 <Original Text by Dandy Saeki>
【Anime Info】
【Broadcasting/Streaming Info】
Broadcasting on TOKYO MX, BS Nippon Television, and others from Thursday, July 1, 2021
・ TV broadcasting
TOKYO MX from Thursday, July 1st, every Thursday from 22:00
BS Nippon Television from Thursday, July 1st, every Thursday from 23:30
AT-X from Thursday, July 1st, every Thursday from 23:30
J: Tele from Wednesday, July 7th, every Wednesday from 25:00
・Digital Distribution
d Anime Store priority streaming starts from 22:30 on Thursday, July 1st, episodes aired sequentially from 22:30 every Thursday
Amazon Prime Video streaming starts from 0:00 on Monday, July 5th, episodes aired sequentially from 0:00 every Monday
The following distribution sites will also start streaming episodes sequentially from 0:00 on Thursday, July 8th:
■ Latest episode 1 week free streaming
ABEMA / GYAO! / Niconico Channel / U-NEXT
■ Unlimited viewing
ABEMA / FOD / U-NEXT / Anime Houdai / Netflix / dTV / Bandai Channel /
Hikari TV / Hulu / J: COM On Demand / milplus
■ Other digital distribution services
Video Market / DMM.com / GYAO! Store / COCORO VIDEO / HAPPY! Video / TELASA / music.jp / TSUTAYA TV / Crank-in! Video / Rakuten TV /Google Play / Movies Full Plus
【Introduction】
Once upon a time in a certain land, there lived an old man and an old woman.
The old man went to the mountains to cut grass, and the old woman went to the river to wash clothes… (skipping ahead a little)
Eventually the demons were all destroyed, but it was said that more demons still roamed other lands…
So the peach boy Momotaro set off across the sea.
It was amazing that they were all defeated, and it should have been a cause for joy.
However, the one thing that was off…
Killing them was fun.
This is just hypothetical, but…
Suppose there was more than one big peach in this story…
Suppose that the peach that floated to Japan wasn't alone…
【Staff】
Original: Coolkyoushinja / Johanne
(Serialized in Kodansha Shonen Magazine R and Magapoke)
Director: Shigeru Ueda
Series composition: Keiichiro Ochi
Character design: Satomi Kurita, Masato Kato
Prop design: Takuya Imamon
Color design: Maki Saito
Art Director: Kouki Fukushima
Art setting: Yoshihiro Sono
Cinematographer: Naho Hasegawa
Edited by: Masaru Honda
Sound Director: Ryo Tanaka
Music: Takaaki Nakahashi
Animation production: Asahi Production
【Cast】
Sally: Haruka Shiraishi
Mikoto: Nao Toyama
Frau: M ・ A ・ O
Hawthorne: Toshiki Masuda
Carrot: Megumi Toda
Dog: Jiro Saito
Milia: Mayu Mineda
Winnie: Haruka Tomatsu
Emperor: Daisuke Hirakawa
Todoroki: Misato Murai
Jucerino: Yurika Kubo
Atra: Yuko Suzuhana
Opening theme: Q-MHz feat. Yuko Suzuhana "Dark spiral journey"
Ending theme: Mitei no Hanashi "Yoru wo Koeru Ashioto"
■ Official Site http://peachboyriverside.com
■ Official Twitter @peachboy_anime
(c)Coolkyoushinja・Johanne / Kodansha / Peach Boy Riverside Production Committee