Interview with May'n on the release of her new album momentbook, packed with songs everyone will love!
---
(Repotama is an online magazine covering news on everything anime, and we have recently started trying out posting articles in English! If you enjoyed this article, we'd really appreciate it if you'd consider sharing it and following us on Twitter!)
After the 15th anniversary of her debut, May'n, who has now entered her 16th year, will now be releasing her first full album since new album upon transferring to her new label.
In addition to the new songs that she wrote the lyrics for herself, there will also be anime tie-in songs that were recorded before the transfer. Also included is a song made in collaboration with Nakabayashi Co., Ltd. produced by musician Masayoshi Oishi.
This time, as she entered into her 16th anniversary, she talked about her new album, looked back on the past 15 years, and about her collabs with her favourite "●●●●", below…
―First off, how about we look back on the May'n 15th Anniversary Monthly Concert "1 to 5", held from January to May this year?
May'n: Since it's the 15th anniversary, I was hoping to have a lot of live performances and give back to all of the fans, but Covid made that difficult…
Despite the circumstances I was happy to be able to do it online, and try out all of the fun effects unique to online performances.
―How was the setlist for each performance decided?
May'n: They're also included in each live title, but I chose songs that best fit the themes of "Pop", "Dance", "Rock", and "Acoustic".
"Music" in May was performed live, but since it was the culmination of the 5 months of performances and the 15th anniversary, the setlist was made by putting in one song sung at each of the previous performances, along with our deep gratitude to be able to perform live again.
Unlike the usual live tour, this time, the performances were completely different from how they would be performed live, and so we had to prepare thoroughly for February as soon as January's performance was over, and after the February performance we had to immediately start preparing for March. It was a lot more preparation than usual.
It was hard work, but I felt that it was more fun to be creative under these different circumstances, and I think it was a great experience to have for future activities.
―So, how about we look back on "1 to 5 -MUSIC-", held at Nakano Sunplaza in May?
May'n: When I thought to myself "I'll be able to meet everyone again for the first time in so long!" I almost cried during the rehearsal… I had thought "I'll never cry during a performance", but that… well, didn't work out." (laughs)
As soon as the concert started, I was still in standby behind the panel, so I couldn't see everyone's faces yet. But the moment I finished singing the chorus of the first song "Kimi Shinita Moukotonakare" and opened my eyes, I was already at my limit…
―Even the MC was getting emotional, too.
May'n: It was the first live performance in 15 months. It really made me realize just how much everyone supported me.
―From here, please tell us particularly about the new songs that are included in your new album "momentbook".
May'n: When I made the full album, I wanted to connect the past, present, and future, so I was very grateful to be able to include past songs from before transferring labels.
It was decided that the songs that would be used would be on the livelier side, such as anime tie-in songs, so I decided to relax and focus on making the new songs on the album more calm and relatable to everyone's daily life.
―What kind of song is the first song "Walk with moments"?
May'n: My activity as an artist has never been about smooth sailing, but at times when I have less work, I think to myself things like "let's practice dancing", or "let's try writing lyrics", and at those times I've been able to broaden my horizons and become the person I am today because of those efforts.
The song is based on the idea that "I've been working hard for 15 years, and I want to keep moving forward".
―"SUMMER DREAM" has got a cheerful rhythm, and like the title suggests, it is a number that makes you feel the spirit of summer.
May'n: I was inspired to write it that way because I wanted to make a song about the dreams of my youth.
h-wonder, who was in charge of composing, had worked on the song I sang at my audition, so I have always thought "I want to try singing one of his songs!" so I am thrilled I was able to work with him.
By the way, when I first talked to h-wonder at an online meeting, I told him "I actually sang this song and that song at my audition!"… When I think about it now, I was just a fan (laughs).
―What did you focus on with the lyrics?
May'n: Until now, I haven't really tried to focus much on reality when writing lyrics, but there was also a concept of the album to consider about wanting to be close to everyone's daily life, so I intentionally chose words that are easy to understand and straightforward.
When I lived in Nagoya in my teens, when I went to concerts I would go out to the ocean by train. I used this special feeling of an extraordinary day and put it into the lyrics "riding at a different speed than usual".
― "place roulette" has got a refreshing melody to it.
May'n: The title of this song was suggested to me by Rinne, and it was easy to take the lyrics and expand it from there.
Since I came to Tokyo, I have spent a lot of time just going through the motions of the day-to-today and feeling depressed. But now, I'm becoming more flexible in my thinking, by telling myself things like "
Since I came to Tokyo, I have spent the day feeling a sense of response and feeling depressed. But now, I'm becoming more flexible in thinking, "Even if you're feeling bad about your current direction, if you willingly change course yourself, that new direction will be the way forward for you", and I turned that feeling into words.
―What was hard about writing the lyrics?
May'n: I didn't find it "hard" myself, but the producer said about the lyrics "So, huh… May'n is really someone who likes to ride the train and go to cafes." If you write while looking back on your own life, the phrasing can end up sounding very specific to yourself only. However, I asked him to leave the train alone at least for this one song! (laughs)
―"Real Lies" is a melody line with an upbeat rhythm that reminds you of taking a "short break". A perfect song for the middle of the setlist.
May'n: I really like Taichi Mukai's music, so I thought to myself "I definitely want to do this together", so I asked. I heard the word Mukai-san decided to pick was "Lie", so I used it in the title.
"Real" and "Lies" were not originally connected, but the relationship between the two is very interesting. I wrote the lyrics while thinking about a lot of things by myself.
― "Irritable" has a light melody starting in the intro.
May'n: The melody line was made in tandem with "dance sounds".
I think that in life, it's sometimes necessary to think, "I want to make excuses when I'm doing my best but having a hard time." I wanted to appeal to this point, so I wrote the lyrics as such.
―"Mirai Note" is a song made in collaboration with Nakabayashi Co., Ltd. (familiar in photo albums), which shares a surname with May'n (real name: Mei Nakabayashi).
May'n: It's a song that cheers on the present self while reflecting on the past self.
Masayoshi Oishi's lyrics are also great. I put into the end of them a feeling of determination toward my future activities.
―YouTube has released the full version of an animated music video.
May'n: I was impressed by the visuals that moved everybody! It's such a wonderful story to watch, and I felt really impressed by it.
By the way, this is really just a coincidence, but there is a character called "Kabayan", a hippo that appears in Hipopo Island Series which is also by Nakabayashi. I also really love hippos, so when I made my debut I wanted to give it a nickname based on that (laughs).
A girl wearing hippo pajamas appears in the music video, but I also have similar pajamas, so I thought the whole thing was fated (laughs).
―How was it when you performed the song?
May'n: I've covered songs by Oishi-san at events before but they have a "simple goodness" to them. I felt that even if in the future I ran into a lot of trouble, listening to this music would make me feel alright.
There's a part that goes "write, erase, then do it again", but I've always been thinking "I can't erase a story in my life once I've drawn it" (laughs).
I learned that while this is important, it's also okay to know that even if things don't go the way you want, "it's okay to try again".
―The Blu-ray contains a large album production documentary called "Awesome Studio -May'n-".
May'n: There's a briefing about the new song Walk with moments, from the March 20th 1 to 5 -ROCK- event, after the scene where the MC announced the label transfer. Also, there's the jacket shooting, the environment surrounding the production of the lyrics as well as the recording, to the point where it goes so in-depth I thought "Is it alright to show this much?"
By the way, the digest series "I・My・Me・Mine・May'n!" is being aired every Tuesday on OPENREC.tv., so please take a look at that as well!
―It seems that the lyrical MV of "Walk with moments" is also included.
May'n: I would often work on the lyrics for "Walk with moments" when I'm at the office (HoriPro International). I went to the office more than anywhere else for 15 years, and the video shows a lot of scenery of Meguro, which is the location of the office, so I hope everyone will enjoy seeing it with their own eyes.
―Please tell us about your memories of doing the shoot for the record jacket.
May'n: I had a good time doing it at the house studio.
I was originally never very good at doing jacket shoots or music videos, and it was pretty embarrassing to hear things like "that's a great angle!" or "that's cute, like that!" with the staff while they looked at the photos.
But now I think about it as a part of making music, so I feel completely relaxed. On the contrary, I'll say things like "this expression is perfect, isn't it!" (laughs)
―I heard that a release event will take place in Tokyo on July 24th (Sat), 25th (Sun), and 31st (Sat).
May'n: Because of how things are, we plan to hold the event with strong consideration for the control of the spread of infection, but on July 4th (Sun) an online event will also be held for those who purchased the album. I hope everyone will look forward to that as well.
―You'll be appearing at an event on June 26th (Sat), Ani Pachi -Anime Carnival- supported by OPENREC.tv.
May'n: I'm looking forward to co-starring in the event with my labelmates. Maybe, just before the album's release, we'll show off the songs from the album…?
―You're a big fan of "Taiyaki" (a filled fish-shape cake/snack), which everyone in the know knows about you, but "Collab Taiyaki" was released in commemoration of your 15th anniversary.
May'n: It was fate this time, and we did a collaboration with Tokachi Daifuku Honpo, who is also developing products for Seven-Eleven across Japan! Actually, I'm very happy that my role as "Taiyaki Ambassador" (self-proclaimed) has entered its 16th anniversary! (laughs)
When we announced the collaboration, it was great to hear from the gourmet industry which we normally don't have much of a connection with. The tension was raised because of the reaction of the Taiyaki world's heavyweight, that I respect so much! Since it's delicious even if you just heat it in the microwave, please give it a try!
―Finally, please give us a message.
May'n: I'm glad to welcome the beginning of the 16th anniversary with my new album momentbook. It's a work that packs together my past, present, and future.
It's a work that was made when we couldn't perform live, so let's listen to it a lot and see each other again at the live venue!
<Text / Dandy Saeki>
【Product Overview】
『momentbook』
Release date: June 30, 2021 (Wednesday)

Label: Digital Double
Sales agency: avex pictures
Limited first-edition bonus: Online event participation serial code (held on Sunday, July 4, 2021)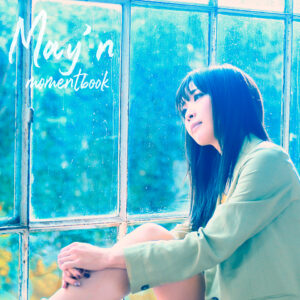 【CD+Blu-ray】
Part number: XNDD-00001/B
Price including tax: 4,620 yen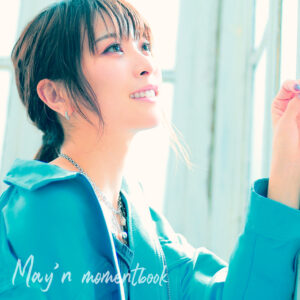 【CD】
Part number: XNDD-00002
Price including tax: 3,300 yen
● Songs on CD
1. Walk with moments
Lyrics: May'n Composition: May'n / Hayato Tanaka Arrangement: Hayato Tanaka
2. SUMMER DREAM
Lyrics: May'n Composition / Arrangement: h-wonder
3.place roulette
Lyrics: May' n Composition / Arrangement: Rinne / Taro Ishida
4. Kiba to Tsubasa (ED theme of TV anime Kochōki Wakaki Nobunaga)
Lyrics: Miyagawa Bullet Composition: Tomoya Kawasaki Arrangement: Junichi Sato
Licensed by FlyingDog, Inc.
5. Real Lies
Lyrics: May'n Composition: Taichi Mukai / CELSIOR COUPE Arrangement: CELSIOR COUPE
6. Irritable
Lyrics: May'n Composition / Arrangement: Hidekazu Tanaka (MONACA)
7. graphite/diamond (TV anime "Azur Lane" OP theme song)
Lyrics: Seiko Fujibayashi Composition: Ryuichi Takagi (Dream Monster) Arrangement: Yusuke Shirato (Dream Monster)
Licensed by Stray Cats Co., Ltd.
8. Tenshi yo furusato wo kike (TV Anime Lord of Vermilion: The Crimson King OP Theme)
Lyrics: Yuho Iwasato Composition: TOMOYA / KENT (SALTY DOG) Arrangement: CHOKKAKU
Licensed by FlyingDog, Inc.
9. Namida no umi wo higashi e (graphite / diamond)
Lyrics: TAKU INOUE Composition: JUVENILE Arrangement: Yashikin
Licensed by Stray Cats Co., Ltd.
10.You (TV anime The Ancient Magus' Bride Season 2 OP theme)
Lyrics: Yuho Iwasato Composition: Ryota Nakano Arrangement: NAOKI-T
Licensed by FlyingDog, Inc.
11. Mirai Note (Tie-up song by Nakabayashi Co., Ltd.)
Lyrics / Composition / Arrangement: Masayoshi Oishi
Licensed by HoriPro International Inc ,
● Blu-ray contents
・ May'n album production documentary "Awesome Studio -May'n-" complete recording (about 150 minutes)
・ Walk with moments (Lyric Video)
【Outline of online event】
■Event title: OPENREC.tv presents May'n Special Live momentbook on line
■ Date and time: Sunday, July 4, 2021
Part 1: 17: 00-18: 00 (approx. 60 minutes)
Part 2: 19: 00-20: 30 (approx. 90 minutes)
■ Ticket fee
Part 1: Free
※Online tickets can be redeemed from the serial code packaged with the CD.
Part 2: General: 2,800 yen (tax included) / Subscription member: 2,300 yen (tax included)
※Please note that a separate system usage fee will be charged.

■ Ticket sales period (Part 2)
June 16th (Wednesday) 10:00 to July 11th (Sunday) 23:59 (including missed-program broadcast period)
■ Event ticket purchase page
https://www.openrec.tv/ppv/mayn_event_0704
● Online event content
Part 1: Talk about the secret story of album production + mini-live
Performer: May'n MC: Producer Tanaka
Part 2: One-night-only "momentbook" SPECIAL TALK & LIVE (performance of new album's songs)
Performer: May'n Special Talk Guest: Taichi Mukai, Rinne
● Artist Info
Please check from the link below.
https://www.digitaldouble.co.jp/artists/mayn
【"Walk with moments" lyric video】
● May'n official site
http://mayn.jp/
● May'n label site
https://www.digitaldouble.co.jp/artists/mayn
● May'n Twitter
https://twitter.com/mayn_tw
● May'n Staff Twitter
https://twitter.com/MaynStaff
● I・My・Me・Mine・May'n! (OPENREC.tv regular)
https://www.openrec.tv/user/mayn-op
【Special Gift】
Autographed card from May'n will be presented to one person! (Overseas applications not available)
If you wish, please write "momentbook" first to specify, then please write:
1. Name, 2. Zip code/address, 3 Phone number, 4. Gender, 5. Age, 6. How did you find this site?
Please follow the official Twitter @repotama ( https://twitter.com/repotama/) and send it by DM (direct message, a function that can be used after following). As soon as you follow us, we will get back to you as soon as possible. (※You can apply for multiple gifts with one account)
Application deadline: Must arrive by 23:59 on July 30, 2021 (※Since personal information is included in the entry, please be sure to send it carefully.)
Copyright (C) HoriPro International Inc. all rights reserved.