Announcement of 2012 October`s new animation called "PSYCO-PASS"!! Additional information of cast is here!!
---
New animation "PSYCO-PASS" is schedule to start from October by Fuji TV`s Noitamina" and etc. Key visuals which were worked by popular comic artist Akira Amano and additional cast information are now announced!
Voice artists of five characters whom belong to public security department were announced.
Kenji Nojima plays smart and cool officer Nobuchika Ginoza who is co-worker of Akane Tsunemori.
Akira Ishida plays executive officer Shusei Kagari who is similar character as Shinya Kagami.
Shizuka Itou plays executive officer Yayoi Kuniduka.
Kinryu Arimoto plays executive officer Tomomi Masao.
Miyuki Sawashiro plays analyst Shion Karanomori.
First episode will aired on 2012 October 11th by Fuji TV`s Noitamina at 24:45.  Also, Kansai TV, Tokai TV and other TV stations are schedule to start the program at same date.
They showed detail pics of this cartoon`s key item "Domineta gun" too. Moreover, web radio "PSYCO PASS" is planned to start by internet radio station "Onsen".  Please wait for additional information!!
Comments of Kenji Nojima who plays Nobuchika Ginoza
Hello, I`m Kenji Nojima that voice actor of Ginoza. I was expecting for "PSYCO-PASS" because I heard this story was about detective story of future. I didn`t have any chance to work on detective kind story, so I am glad to work on this animation. It`s a man's romance. We are recording really friendly and I can`t wait for next recording. Thank you!
Comments of Akira Ishida who plays Shusei Kagari
Hello, I`m Akira Ishida that voice actor of Shusei Kagari. Now we start the recording of "PSYCO-PASS". I roll as department of public safety`s officer who clamp down on criminals. The first episode gave me a perfect answer that I couldn`t understand. The word was "That system is dominating the justice".  I really confuse that "what is system which dominate the justice??? By the way, does justice gonna dominate? I don`t hav like that feelings". Everyone please enjoy!
Comments of Shizuka Itou who plays Yayoi Kuniduka
It has unique view of world and makes us fun to work. Please watch out to main characters that how they live in such unusual environment.
I would like everyone to watch out the girl name "Yayoi" that how she gonna survive in this world.
Comments of Miyuki Sawashiro who plays Shion Karanomori
She appears from ep2・・・・by the way, her position was more important than I expected.
I am having fun to act Shion because it is interesting to know how she relates to the story.
Comments of Kinryu Arimoto who plays Tomomi Masao
Hello everyone, I`m Kinryu Arimoto that I act PSYCO-PASS`s Tomomi Masao.
The story`s back ground is in future that completely control by the computer such as massive drone police, and computer which analyze human to control.
Honestly, I don`t want to experience such world. But I have interest in people whom live such word. Does the humanness still exist in that world? Watch carefully.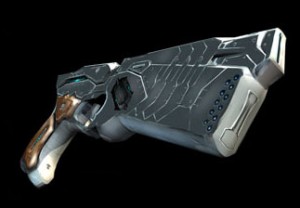 Pic of "Dominater Gun"
Only the officers are allow to hold this gun. It calculate the person`s criminal potential.
WEB Radio info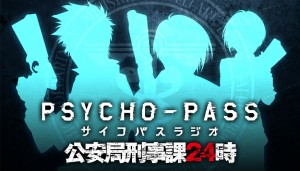 Internet radio "PSYCO-PASS Radio 24 hours Police Safety Division"
Personality is Tomokazu Seki and Kenji Nojima. Kana Hanasawa has her own segment at this program too.
Start from: 2012/10/05 (Fri)   programs are upload at every other Friday.
Site: internet radio station <On Sen>
Anime info
Title: PSYCO-PASS
"The muzzle dominate the justice"
Start from: 2012/10/11 by Fuji TV`s Noitamina and other station at every Thursday 24:45 (just scheduled)
Staff
Character board: Akira Amano/ animation production: Production IG
Cast
Shinya Kougami: Tomokazu Seki/ Akane Tsunemori: Kana Hanazawa/ nobuchika Ginoza: Kenji Nojima/ Tomomi Masao: Kinryu Arimoto/ Shusei Kagari: Akira Ishida/ Yayoi Kuniduka/ Shizuka Itou/ Shion Karanomori: Miyuki Sawashiro/ etc.
Official site: http://psycho-pass.com/
Twitter: http://twitter.com/psychopass_tv
Face book: http://facebook.com/psychopasstv