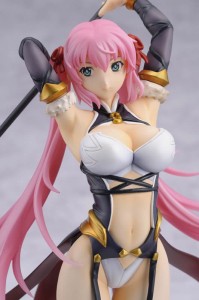 New figure, battle suit version of Ousawa Miu from Japanese anime "Hagure Yuusha no Estetica"!! Order is closing at October 10th (Wed)!!
---
Hagure Yuusha no Estetica`s main heroin "Ousawa Miu" `s figure is added to Hobby Japan`s product line. They are now taking a reservation till October 10th (Wed).
Main heroin Ousawa Miu became 3 dimensional with combat clothes!
Beautiful hair, glamorous body line, big boobs!
The figure is manufactured by Famous figure manufacturing group AMAKUN which handled the Queens Gate`s grappler Lili and Noel Vermillion in past.
Item description
Hagure Yuusha no Estetica`s main heroin Ousawa Miu battle suit version.
Price: \7980(yen) exclude shipping fees.
Order period: 2012/8/25(Sat)~2012/10/10(Wed)
Shipping date: scheduled in 2013 March through April.
Specification: colored PVC model
Size:  1:8 scale height 20cm
Prototype production: ryuzaki li
Color: pinpoint
Sales agency: Hobby Japan
Manufactured by AMAKUNI
★monthly magazine Hobby Japan vol11 sells at September 25
Also you can order from http://hobbyjapan.co.jp/ltd_items
<What is AMAKUNI>

AMAKUNI is figure brand name which took from legendary sword smith Amakuni.
We make figures everyday with adding fun to sincere attitude. Our policy is delivering the fun with item which customers order. Currently, we are having business with Hobby Japan mainly. Please watch out for our products.
Monthly Hobby Japan: http://hobbyjapan.co.jp/hobbyjapan/
Original HJ Bunko "Hagure Yuusha no Estetica" special web page
http://hobbyjapan.co.jp/hjbunko/hagure/
Hagure Yuusha no Estetica official web site