Space Craft which Kalafina and Yuhka Nanri are belongs hosted special live event called "MUSIC ENERGY 2012"!! Total 8pairs 10 artists collaborated at live.
---
Anime songs lovers got excited by high quality performance and music!!
 Space Craft Group which holds many anime musicians and voice artists held music event "MUSIC ENERGY 2012" at New National Theatre Tokyo on August 30th.
The first player was Runa Haruna and she sang "Binetsu no Tuki" and "Sora ha Takaku Kaze ha Utau" with her wish as "Move forward".
Then stage`s heat amazingly increased by next singers such as Aila Yuuki, Mana Ogawa and Kaori Oda.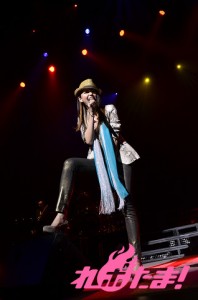 At the middle of term, audiences were exited to next two singers. Saeka Uura(used to Cherie) sang TV anime "Kekkaishi" `s opening song "Sha la la – Ayakashi Night-" which was produced by Kouji Inaba. Also, Santos Anna sang the One Piece the 4th season`s opening song "BON VOYAGE!".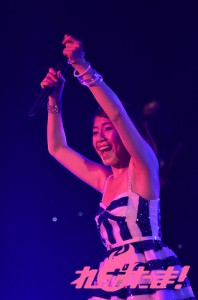 The 7th player Nanri entertained the audiences by her clear and powerful voice. She sang the "Kiseki" which was used in TV anime SACRED SEVEN.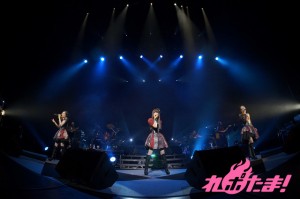 The last group was Kalafina. When stage gets dark, customers start applause then Wakana, Keiko, and Kikaru were spot lighted, audiences were suddenly over flowed their passions.
 First 2 songs "Manten" and "Moonfesta" were melodious songs which made customers to cool down. Then their last song "to the beginning" leads audiences to climax. At this moment, whole people in the hall sang with Kalafina.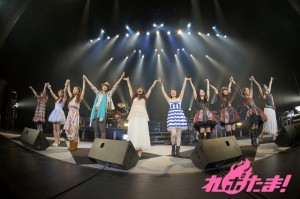 Lastly, every casts shows up to stage and sang the "angel gate" which is theme song of musical "ANGEL GATE Haru no Yokan".
After the song, Nanri commented that "I am really glad to spend last summer with everyone in this event."
Also, Keiko commented as well. "Making music with artists whom belongs same production gave me a great experiences. I would like everyone to bring back our power and cheer up to tomorrow`s life.
Casts
Luna Haruna, Aira Yuhki, Mana Ogawa, Kaori Oda, Cherie, Anna Santos, Yuhka Nanri, and Kalafina.
Song list
Luna Haruna: 1. "Binetsu no Tsuki"  2. "Sora ha Takaku Kaze ha Utau"(TV anime Fate/Zero 2nd season ending)
Aira Yuhki: 3. "Hoshi ga Eien wo Terashiteru" (TV anime Uchu Senkan Yamato 2199 first season ending)  4. "Kanashimiha Dareno Negaidemo Nai" (TV anime Kyoukaisen Jyou no Horizon ending theme –side sunset-)
Mana Ogawa: 5. "Meccha Motetai! (TV anime "Gokujyou! Mecha Mote Iinchou 5th ending)  6. "MAP ~Mirai no Chizu~" (Movie COACH ending)
Kaori Oda: 7. "Hajimari no Kioku" (PSP AMNESIA LA TER opening)  8. "Calling" (TV anime Bakkano ending)
Saeka Uura: 9. "Sha la la –Ayakashi NIGHT" (TV anime Kekkaishi)  10. "Kajitsu" (Chiba TV [MU-GEN] 2007 September opening)
Anna Santos: 11. " Changing" (TV anime Yamato Nadeshiko Shichi Henge ending)  12. "BON VO YAGE" (TV anime ONE PIECE opening)
Yuhka Nanri: 13. "LIVE ON" (fantasy MMORPG[ARK FRONTIER-Jikuu Hyouryu]promotion theme song)  14. "Sayonara"  15. "Kiseki" (TV anime Sacred Seven ending/opening)
Kalafina: 16. "Manten" (TV anime Fate/Zero 2nd season ep18,19 ending)  17. "moonfesta" (NHK Minna no Uta June July)  18. "to the beginning" (TV anime Fate/Zero 2nd season opening)
All cast: 19. "angel gate" (musical ANGEL GA TE theme song)
Space Craft Groop Official Site