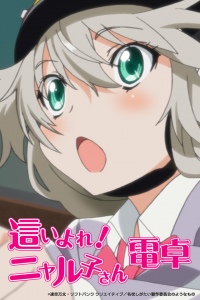 Uhh-!! Nya-!! Indescribable phone application arrives!! The "Nyaruko Culculation" is now starts providing.
---
Gamegate.inc starts providing a smart phone`s application called ""Nyaruko Culculation" at App store and Google Play.
The cute cartoon character "Nyaruko gonna read up the number which you input and has 4 kinds of variation (emotions) such as normal, shame, mean, anger.
The voice was directly recorded by Kana Asumi who is voice actress of Nyaruko. Also it`s free to down load!! ※some voices need additional fees.
3 persons have chance to get Kana Asumi`s autograph by lottery. If you have interest please take a look below.
Introduce the functions!☆
[ Culculation!!]
If you hit the number, Nyaruko will response! There are 4 voice options so please choose your favorite one!
<Voice Patern>
Regular mode: Nyaruko responses as usual. Shame mode: Nyaruko responses as shame
Mean mode: Nyaruko responses as mean. Anger mode: Nyaruko responses as mad.
If you purchased the additional voice, Nyaruko`s reacting variation will update too!
The back ground pics will change by your selection of voice.
[Campaign]
You`ve chance to get famous Japanese voice actress`s autograph. Three persons will choose by lottery.
[Terms]
2012/8/24(Fri)~2012/9/23(Sun)
How to apply?
please follow the @Gamegate_jp on twitter
Need to create an account to send a direct mail. If you didn`t follow, your request will be cancel.
Please login to the twitter and tweet "I will apply to the campaing" with hash tag #nyaruko_dentaku.
Lottery winner will receive the direct mail from twitter account @Gamegate_jp.
Listing bellow will be invalid
Cannot send the direct mail.
Leave the form for 7 days after you receive the DM.
Input the wrong address.
Get Nyaruko Dentaku apps at app store or Google Play.
Available at such devices: iPhone3gs, iPhone4, iPhone4s, ipod touch, iPad iPad2, iPad3, Android
Required os: iOS4.0 or higher, Android OS2.1 or higher
©Aisora Manta/Softbank Creative/Meijyoushigatai Seisaku Iinkainoyounamono
URL
http://itunes.apple.com/us/app/nyaru-zi-dian-zhuo/id535135362?l=ja&ls=1&mt=8
https://play.google.com/store/apps/details?id=jp.co.undeux.nyaruko.calc