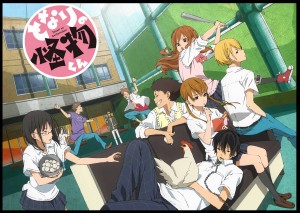 This fall new animation "Tonari no Kaibutu-kun" start broad casting on October 1st 'Mon" at 23:35 by TV Tokyo and etc.
---
"Tonari no Kaibutu-kun" is lady`s comic which is serialize in monthly comic magazine "Desert" and author is Robiko. Story is almost about youth love story.
Details of other TV stations and time line would be show up at official site and monthly comic "Desert".
Information of anime
Title: "Tonari no Kaibutu-kun"
Start at October 1st (Mon) at 23:35 by TV Tokyo and etc
<Staff>
Author: Robiko (serialized at Koudansha monthly Desert)
Director: Hiro Kaburaki
Main writer: Noboru Takagi
Character design: Tomohiro Kishi
Art: Chikako Shibata
Color Coordinate: Hiromi Miyawaki
Cinematographer: Jin Tamura
Edit: Daisuke Imai
Music: Masato Nakayama (Elements Garden)
Assistant Director: Norihiro Naganuma
Animation production by Brains Base
Production: Tonari no Kaibutu-Kun production committee
<Cast>
Shizuku Mizutani (CV: Haruka Tomatsu)
Haru Yoshida (CV: Tatsuhisa Suzuki)
Asako Natsume (CV: Atsumi Tanezaki)
Souhei Sasahara (CV: Ryota Oosaka)
Kinji Yamaguchi (CV: Takuma Terashima)
Chizuru Ooshima (CV: Kana Hanazawa)
Yuzan Yoshida (CV: Yuichi Nakamura)
Mitsuyoshi Misawa (CV: Tomoyuki Higuchi)
Etc
© Robiko・Koudansha/ "Tonari no Kaibutu-Kun" production committee