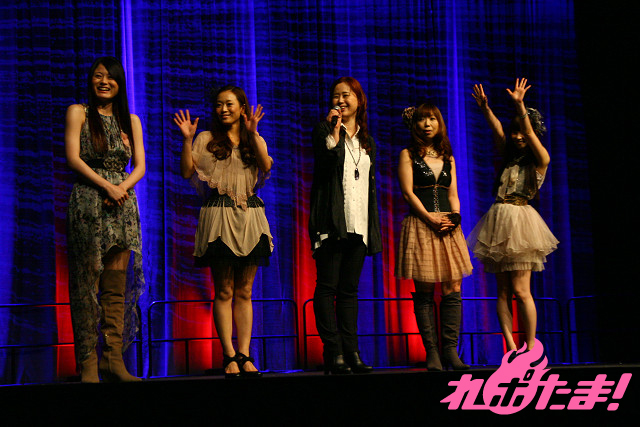 Kajiura Yuki/FictionJunction was invited to huge animation event "Anime Expo 2012 in L.A".
---
Yuki Kajiura`s solo project "Kajiura Yuki/FictionJunction" was invited to "Anime Expo 2012 "as an official guest. This event was held on June 29th through July 2nd at Los Angeles and she had live for 2 hours at main stage.
Last time, she was invited at 2003 as an official guest but she did not come with enough support members. Was only vocal, violin, guitar. So this time she took full support member such as her own support bands and 4 lead vocals to entertain the customers as same as Japan.
Kajiura: I`m really exciting that I`m standing same place as my favorite musicians and I was waiting for these feelings. I would like to build up an wonderful event with audiences.
On June 28th, they arrive in L.A and sooner they went to staples center. They were the last party and were welcomed. They each had speech and after Kajiwara draw the Darumadoll`s eye, opening ceremony was over.
The hall contained over 5000 of people and they welcome the guests. Each guest was called and walked through the red carpet. Kajiura`s party was last group of owners guest. When they were called, everyone in hall stands and applauded. The members were Yuki Kajiura and four singers KAORI, KEIKO, WAKANA, and YURIKO. Plus band member of Kouichi Korenaga, Kyouichi Sato, Takahashi "Jr" Tomoharu, Hitoshi Konno, and Yoshio Oohira.
At the end, Kajiura had speach
Kajiura: "I would like to say thank you to Anime Expo `s staff. Thank you for inviting us and I am really glad to stand this stage again. Today, I came with the full member of my project. I have done recording, concerts and etc with these members. I promise that I do my best on this event.
Yuki Kajiura official & private web site [FictionJunction.com]
http://www.fictionjunction.com/
FlyingDog official website: http://www.jvcmusic.co.jp/fj/