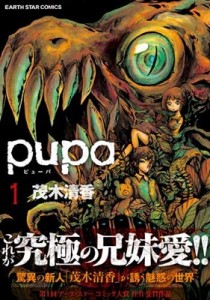 From "EARTH STAR COMICS": If your dearest sister transforms into monster, how do you…The "PUPA" is story of ultimate relation between younger sister and elder brother. The first volume is settled to reprint!! Also, having twitter champagne.
---
Now on sale! Sayaka Mogi`s "Pupa" the second volume is going to publish by Earth Star Comic. Younger sister Yume infected by mysterious virus called "Pupa" which change human to a monster. Moreover, infector starts eating a human. Her older brother Ututu decided to become a victim of her. This strange story provides thrill and hollow and lead readers to think "What is love?"
Also, publisher opens the twitter site in commemoration of reprinting. The main characters Yume and Ututu are twitting on official twitter. If you follow and respond to twitter, might have chance to get author`s illustration. Only, five persons will choose by lottery.
Author Sayaka Mogi`s comments
"I`m really appreciate to the fans, readers and person who help the publishing. I do my best on working to entertain the readers.
Author`s profile
She receives the fine work on "The first Earth Star Comic prize". The story Pupa got serialized from April 2011 to current by monthly Comic Earth Star. Her lovely touched drawing and cruelty story create the huge gap and that is why people were charmed.
Book information
Title: Pupa
Author: Sayaka Mogi  Size: B6  Price: \625(tax include)
About $11 (price will change by current currency rates)
Published by: Earth Star Entertainment
Sales agency: Taibundo (Tokyo)
This is ultimate family love!! Author Sayaka Mogi involves you to weird world!!
The older brother Ututu and younger sister Yume were living together that they left from parents. One day, Yume saw the red butterfly and after that weird things happened to her body. Yume was infected to mysterious virus "Pupa" which change human to a monster. Could they defeat the cruel destiny? Let`s watch out!!
Official twitter account
Yume: https://twitter.com/pupa_yume
Ututu: https://twitter.com/pupa_utsutsu
Twitter finished at July 31th 2012/07/10
You can read 1st episode on the HP